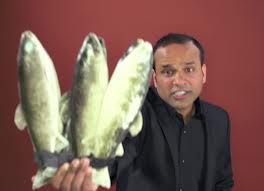 Pakistan, Dec 25 – Even in an age of instant Internet singing sensations, Muhammad Shahid Nazir's tale might seem fishy.
After all, it's not every day that an unsung immigrant from Pakistan makes a respectable challenge to the top of Britain's Christmas pop chart with a ditty about the "very, very good" fish he hawks on the streets of London. But the millions who have heard Nazir crooning on YouTube can understand: It's easy to get hooked on his song "One Pound Fish," named not after the weight of the day's catch but its cost in British currency.
"I never thought my song would become famous," the 31-year-old newly minted recording artist said. "My real name is Muhammad Shahid, but the people call me the 'One Pound Fish Man,' and I'm so happy."
Nazir, a father of four who hails from the little-known Punjab town of Pattoki, set out for Britain on a student visa a year and a half ago, hopeful, like many Pakistanis, of forging a better future for his family. He landed a job as a fish monger but says he soon knew he would not be a very competitive salesman. He didn't like to shout about his wares, as many fish sellers do to attract customers.
But through a stroke of divine intervention, a new approach to advertising his fish came into being. "On the spot, God put the song in my mind," he said.
The simple sales ditty goes: "Come on ladies, come on ladies! One pound fish. . . . Very, very good and very, very cheap. One pound fish!"
That's pretty much it. But a large part of Nazir's charm lies in the sheer earnestness with which he belts out the tune to the female shoppers within earshot at Queens Market in London, entreating them to "have a, have a look" at his wares.
Soon enough, somebody made an amateur video of his jingle and posted it on YouTube. As the views mounted to 6 million, Nazir joined the likes of Rebecca Black of hyper-annoying "Friday" fame and Psy, the South Korean pop star whose "Gangnam Style" video had millions around the world dancing as if they were riding imaginary horses.
An enterprising producer decided to polish and expand "One Pound Fish." The latest rendition took on added zest in a music video that features sexy dancers in Bollywood-inspired outfits, flying fish and, of course, a splash of Autotune. That version had nearly 7 million views as of Monday.
Nazir's song made it into the U.K. Top 40 after just two weeks on the charts. That gave it a shot at joining the ranks of fabled No. 1 Christmas singles — those songs that top the charts in the week that the holiday falls.
Past Christmas singles have included the predictable and improbable. The Beatles' "I Want to Hold Your Hand" was No. 1 in 1963 (one of the group's four Christmas chart-toppers); Queen's "Bohemian Rhapsody" succeeded twice, in 1975 and 1991; Band Aid's "Do They Know it's Christmas," also twice, in 1984 and 2004. Then there are only-in-England novelties like comedian Benny Hill's 1971 "Ernie (The Fastest Milkman in the West)" and Mr. Blobby's "Mr. Blobby" in 1993.
This year, Nazir's novelty number faced tough competition against stars such as Rihanna and Justin Bieber. The top tune was announced Sunday: A version of the Hollies' "He Ain't Heavy, He's My Brother" by the Justice Collective, a group of stars who recorded the charity single for victims of a 1989 soccer-stadium stampede that claimed 96 lives.
"One Pound Fish" remained in the wallows, reaching just 29 on the chart, but not bad for a singer who got booted off of television talent show "The X Factor."
This week Nazir returns home to Pattoki with his visa status in question, but in triumph: He is most certainly Pakistan's first viral video singing sensation. Everyone in the town an hour's drive southwest of Lahore has heard of his fame and fortune.
"You can go to any street or market of this town and will see small children singing this 'One Pound Fish' song," said one of Nazir's brothers, Saith Khalid Nazir, a lawyer. "Almost everybody has seen it on the Internet, and they are crazy about it."
As a child, Muhammad Shahid Nazir was known for singing religious songs as a member of a devout family that prayed at the mosque five times a day. Sometimes other congregations requested his vocal talents.
"Nevertheless, the entire family had never thought or imagined that he would become a singer," his brother said.
Muhammad Shahid Nazir said he will spend the Christmas holiday with his family. He described his town as a tolerant one where Christians are welcomed and their religious practices respected. After the holiday, he will apply for a visa to work as an entertainer in Britain.
It's pretty clear that he's become a better self-promoter than fishmonger.
"Now my song is available on iTunes in the U.K.," he said in an interview from London. "My song is becoming famous in France, in Germany, in Canada, in America."
Then, unprompted, he burst into a joyful rendition of his signature tune