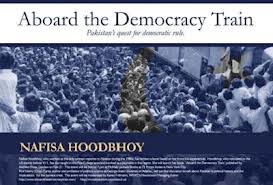 SPO Civic Café has organized the launching ceremony of Prominent Journalist Ms. Nafisa Hoodbhoy's book in Islamabad
Nafisa Hoodbhoy's book is a gripping account of the two-terms each of Mohtarma Benazir Bhutto Shaheed and Nawaz Sharif during 1988 to 1999. Both ascended the Prime Minister's office through elections and both were sacked by the President of the time.
Nafisa serving as the only female reporter with the premier English daily of Pakistan' Dawn' for 16 eventful years' 1984-2000' had the advantage of covering for her paper all major developments of that period and taking mental notes to be incorporated in a book after the turmoil settled down and admitted of an objective evaluation of the events that continue to cast their shadow even to this day.