Acting US Attorney Michael Sherwin has asked the DC Superior Court to order the mental examination of Jawaid Bhutto's attacker – Hilman Jordan -"by one or more psychiatrist."
Sherwin, who conducts prosecution of all federal crimes and serious local crimes moved the motion in Judge Dana Dayson's court on July 6, for productivity and criminal responsibility exam of Jordan, who is accused of the murder.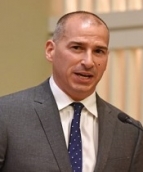 However, the defendant for the accused, Dana Page opposed the motion. In her rejoinder on July 8, Page submitted that the prosecution had failed to provide materials relating to Jordan's mental health at the time he attacked Jawaid.
According to the defense, they have been requesting materials from the prosecution that would support their contention that Jordan was suffering from a mental illness at the time he attacked Jawaid. Page submitted that is intended to bolster the defense argument that Jordan should be considered `Not Guilty By Reason of Insanity.'
In 1998, Jordan murdered his cousin and pleaded insanity – as a result of which he never went to prison. Subsequently, the District of Columbia sent him for treatment to St. Elizabeth Psychiatric Hospital – and then paid for his `convalescent leave' to rent the condo below Jawaid Bhutto's apartment.
Under DC law, it is legal to dump insane criminals – like Hilman Jordan – in communities without informing neighbors about their background, In the case of Jordan, DC has been forced to admit that it failed to monitor him for rampant drug abuse, including failing to sent him back to St. Elizabeth – in flagrant violation of court orders
Judge Dana Dayson will rule on the prosecution and defense arguments in the state's criminal case against the accused.