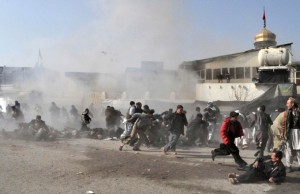 KABUL: Afghan President Hamid Karzai Wednesday blamed the the sectarian militant group Lashkar-e-Jhangvi (LeJ) for a bomb at a Kabul shrine which killed 55 people, demanding justice from Pakistan, his spokesman said.
The comments are likely to antagonise further already tense relations with Islamabad, which boycotted Monday's Bonn conference on the future of Afghanistan following NATO air strikes that killed 24 Pakistani soldiers.
"The president said he blamed the Pakistan-based militant group Lashkar-e-Jhangvi," said Aimal Faizi following reports of a purported claim from the faction, blamed for scores of similar attacks on Shia Muslims in Pakistan.
"The president said that he will demand Pakistan take executive measures in this regard since this group is based in Pakistan so that justice can be done," Faizi added.
Karzai's comments came as he visited victims of the Kabul blast in hospital. He returned to Kabul earlier Wednesday after cutting short a trip to Europe to deal with the fallout of the unprecedented attack on Afghan Shias.
Pakistan asks Kabul to share blast evidence
Pakistan asked Afghanistan to provide evidence to support accusations that LeJ is responsible for the attack.
"Lashkar-e-Jhangvi is a banned organisation. We would encourage Kabul to share with us evidence, if any through official channels," foreign office spokesman Abdul Basit told AFP by text message.
Afghan victims buried as fingers point to Pakistan
An Afghan official had earlier claimed that the bomber who attacked the shrine in Kabul was a Pakistani, affiliated with the sectarian militant group Lashkar-e-Jhangvi (LeJ).
Afghans were Wednesday burying 59 people killed in unprecedented bombings against Shia Muslims as officials blamed Pakistani militants, accusing them of trying to whip up Iraq-style sectarian violence.
Investigators are poring over who was behind the coordinated attacks in the Afghan capital Kabul and northern city of Mazar-i-Sharif that the Taliban, the main faction leading a 10-year insurgency, have denied carrying out.
The LeJ has not previously claimed responsibility for any attacks in neighbouring Afghanistan.
Experts suggest that if Lashkar-e-Jhangvi or indeed any other Pakistani militants orchestrated the attacks, then elements in the Afghan Taliban may have played some part, possibly in facilitating the strikes.
Tuesday's blast on the holiest day in the Shia calendar marked the first major attack on a key religious day in Afghanistan.
The twin blasts have prompted fears of a slide into sectarian violence in Afghanistan.
Lutfullah Mashal, a spokesman for Afghanistan's National Directorate of Security intelligence agency, confirmed that an investigation into the tragedy was now under way.
Sediq Sediqqi, a spokesman for the Afghan interior ministry, said the attack was the work of "the Taliban and their associates", adding no-one else carried out such suicide attacks in Afghanistan.
An Afghan security official speaking on condition of anonymity said the bomber was from the Kurram agency in Pakistan's border region and was connected to Sipah-e-Sahaba Pakistan (SSP).
The Afghan source added the attack aimed to "inflame sectarian violence in Afghanistan" but did not provide any evidence to back up his claims.
The official added: "This is not the work of the Taliban or if there is any Taliban involvement, it is very minimal."
A Western security official speaking anonymously also suggested Pakistani involvement though stressed it was not clear whether this was "institutional".
"We're particularly looking at TTP (Tehreek-i-Taliban, the Pakistani Taliban) although at the moment we don't have any proof," he said. The source added he believed the attack "aimed to weaken Afghan society".
A Pakistani security official speaking anonymously said Lashkar-e-Jhangvi was closely associated with the Pakistani Taliban.
But he added: "This group is on the run and doesn't have the capacity to carry out attacks inside Afghanistan, particularly in Kabul."
Pakistani security analyst Hasan Askari emphasised that there was no clear evidence at this stage of Lashkar-e-Jhangvi involvement.
"Lashkar people have ideological affinity with other militant groups operating in Afghanistan including Taliban and they support each other but they (Lashkar) have to establish that their strength is increasing," he said.
Some analysts have raised fears of more sectarian violence in Afghanistan following the attacks but Shia leaders have urged calm in the aftermath.