We have recently received the generous donation of an illustrated history of the Mirs of Sindh, given in memory of its author and illustrator Mrs. Amina G. Hyder Khaliqdina (1919 -1959).
Amina's family have written an account of her remarkable story and kindly given permission for it to be posted here.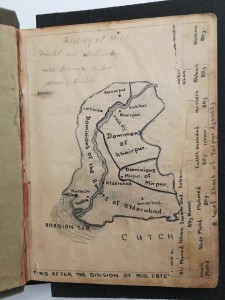 Amina was born on 19th April 1919 in Hyderabad, Sindh (presently a Province of Pakistan) to a middle class educated family. Many male members of her family were well-educated, including her grandfather and uncles, and some of them were civil servants of the British government.
Amina was part of the Muslim Shia Ismaili Community, which had emphasised female education. However, in Sindh education opportunities were limited especially for women.
After losing the battle of Miani with the East India Company in 1843, the Emirate of Sindh lost its independent status and was included as a part of the Bombay Presidency. This was the punishment for Sindh confronting the East India Company and, consequently, for many years Sindh remained underdeveloped. Infant mortality was high. Amina herself was the only survivor from seven births. There were only a few educational institutions within Sindh and for higher education one had to correspond with Bombay University. This made it socioeconomically difficult, especially for women, to achieve higher education.
Within this environment Amina achieved matriculation from Bombay University – the first woman in the family – perhaps one of a very few in Hyderabad, Sindh.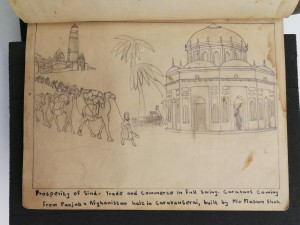 By 1936 Sindh had separated from the Bombay Presidency and with that a new chapter of development of Sindh began. Hyderabad again became a culturally bustling town. This was mainly due to Hindu Divans who worked on Plantations in the Caribbean and brought wealth to Sindh. They promoted art and culture. Yet female education was scarce especially for muslims.
Amina was appointed as head of Art section in Madras -Tul – Banat school. We know very little about Amina's interest in Art and her degree/diploma related to this book due to her untimely death. According to Amina's mother, she started the artwork in this book before she started her employment and carried on sketching long after her first two children were born. Considering the lack of resources libraries, etc., and limited access to Bombay University, her book is evidence of her perseverance. The book is written in English. It shows her competence in multifarious skills.
In addition, she was a champion for promoting education, regardless of cast, religion or gender. We know that she used to gather together children from the neighbourhood, motivate them, and took them to school. There are many doctors, teachers, and artists who are her ex-students in Sindh and will testify to this fact. She was a pioneer in establishing a reading room and a library for women in Hyderabad so they could read and have literary discussions.
Amina was married on 7th May 1942 and bore seven children. She continued working until her fourth child. The concept of a working mother was not very popular in those days but her quest for knowledge and passing knowledge to others overcame all obstacles. She was a positive influence to her husband too and encouraged and supported him. He became Chief Auditor and Director of Finance for the Province of Sindh (Pakistan).
Politically, the 1930s to 40s was a turbulent period in India. There was the struggle for independence on one hand and, on the other, muslims were demanding equal rights or a separate country. Fortunately Sindh was a religiously tolerant province. There was hardly any evidence of Hindu-Muslim conflict. Her own family was divided: some were supporters of Jinnah's Pakistan, and others supporters of Gandhi and Congress. But Amina was a supporter of Sindh. She wanted generations to remember the former glorious period of Sindh, its independence, the dark period of Mir's internal conflict, and the resulting victory of Charles Napier of East India company – who was knighted as a reward of conquering Sindh. Atrocities committed on Sindhis during the battle of Miani were truthfully acknowledged by Sir Charles Napier himself, "If this was a rascality it was a noble rascality"
Amina's pictorial description and historical perspective on the Mirs of Sindh is not only a tribute to her Motherland but a testimony to her intellectual vigour, academic pursuit and her artistic abilities. Sadly, her sudden and untimely death on 23rd May 1959, at the tender age of 40 years, deprived not only Sindh of one of her zealous devout daughters, but her parents lost their only child, and her seven young children lost a loving mother and her husband lost a supportive and beloved wife.