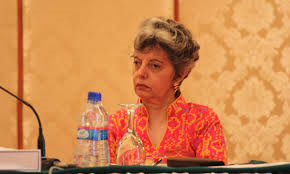 QUETTA, Oct 12: The Human Rights Commission of Pakistan (HRCP) has expressed concern over rights violation in Balochistan, the country's resource-rich but least developed province.
HRCP delegation, headed by chairperson Zohra Yusuf, held a series of meetings with journalists, lawyers, politicians and other members of civil society on Sunday.
Former president of the Supreme Court Bar Association (SCBA) Asma Jehangir was also part of the delegation that thoroughly discussed the prevailing situation in Balochistan with the intelligentsia and other stake holders.
Addressing a press conference at the Quetta Press Club later in the day, Yusuf stated that poverty was one of the underlying factors behind the increase in militancy and insurgency in the province.
She said the issue of missing persons and recovery of bodies in Balochistan continued to linger, adding that the nationalists led government in the province had not met the expectations of the people of Balochistan.
She said although the situation had improved in comparison with the past, a lot needed to be done to improve the situation in Balochistan.
Yusuf stated that it was a matter of serious concern that different communities were being targeted in Balochistan. "Minorities feel insecure here", she added.
---
Also Read : HRCP for talks with Baloch insurgents
---
The HRCP prepared different recommendations with regard to improvement of the human rights situation in Balochistan, which would be presented before the federal and provincial governments to ensure durable peace in the restive province.
---
Also Read: HRCP demands release of Zahid Baloch
---
Commenting on the ongoing political crisis in the country, Asma Jahangir stated that the motive behind the sit-ins was common knowledge.
She added that the armed forces' intervention in the affairs of the government would be dangerous for the country.