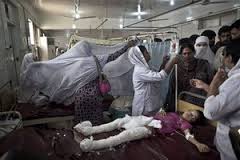 PESHAWAR: As bodies became unseemly piles in the morgue and victims offered up mangled injuries for attention, Lady Reading Hospital (LRH) was mercilessly transported back to the horrors of October 28, 2009 when a bomb exploded at Meena Bazaar.
"It is difficult to tell how many people have been killed or injured, they are just pouring in," said LRH Chief Executive Officer Arshad Javaid initially. "This is the biggest trauma we have had to deal with since the 2009 attack, which killed 139 people."
And no one was prepared.
The LRH chief confessed the hospital was running short of medicines, supplies, coffins and something he did not need to say out loud – space.
Pervez Masih, an eyewitness waiting to get head and chest injuries looked at, described how an ordinary weekend mass at the 130-year-old church turned into a bloody Sunday. Around 400 people, including the elderly, women and children, were at the church, he estimated. "What sounded like a minor blast occurred outside the church, but people rushed out to the main gate." That is when the second suicide bomber, clad in a police uniform, ran at the crowd and blew himself up, said Pervez.
"We don't understand what happened next," he said, and he does not remember how he reached the hospital.
Principal of Geovernment High School No-4 Nothia William Ghulam and his son Neil William, a student of Khyber Medical College Peshawar, were not as fortunate as Pervez. They died in the blasts, but William Ghulam's wife, daughter, brother Anwar and sister-in-law survived, however, not unscathed. Anwar and his wife were being treated for head, chest and hand injures at the LRH.
The aftermath of the twin suicide attack has resulted in at least 78 dead and more than 146 injured. By evening, Khyber Teaching Hospital had 25 patients – six women and three minors – and had sent 15 of their nurses to the LRH.
A jolt to the system
As the first closest point of response, the LRH took in the lion's share of the casualties but Sunday meant lean staff; even the blood bank was shut. Doctors had to be called in; the hospital had to be woken up with a shock to its system.
The first response to any calamity or attack determines many eventualities. Most importantly, it controls the increase in fatalities and severity of injuries. This was near impossible in the attack at the church as 'ambulances' took the shape and form of anything with wheels and a working engine. No Rescue 1122, a few Edhi and mostly Al Khidmat ambulances were visible hurrying to the LRH. The latter eventually took bodies waiting to be buried to their homes.
Inside the hospital, while LRH doctors, nurses and staff were being called in, not much could be done about the shortage of space – the dead and the injured remained lying on the floor for nearly three to four hours.
Below ground, the LRH morgue has the official capacity to store 60 bodies. Without sufficient hands on deck, the deceased lay askew on blocks of ice. The hospital had only 52 coffins at a point when it had at least 70 bodies.
The last straw, the first brick
Above ground, the chaos only brewed chaos. As relatives collected inside the halls, there were not enough medical professionals to cater to everyone's injuries and beds were in short supply. A majority of the injured seemed to be women and children. Distraught, with no place to even sit, loved ones raised a voice, chanting slogans against the absence of facilities and the Pakistan Tehreek-e-Insaf (PTI) government.
"Yeh zalim loug hain, yeh humain is mulk mein nahin jeenay dein geh," cried an inconsolable family member of a deceased victim.
Younas Masih, an older adult, led the impromptu protest which resulted in some broken window panes and a rowdy crowd. "We are citizens of this country and we have equal rights like other citizens. Why is the PTI government not providing us with security and with facilities in the hospital?"
"We only ask for our rights," said Younas. "This is a huge loss for us."
Security lapse?
As the hospital was overrun with patients and caregivers, safety measures were invisible. Standard procedures after a blast dictate heightened security to ensure a second disaster does not follow, bur there were no policemen or private guards visible at the gates or inside.
After the hospital gained some control, LRH chief Javaid assured the victims and their worried caregivers the hospital was fully staffed and will attempt to treat every patient.
Referencing the blood bank which was shut earlier, Javaid promised the hospital was equipped with blood but encouraged people to go and donate.
Published in The Express Tribune, September 23rd, 2013.