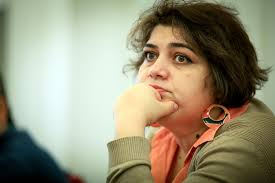 The U.S. government spends millions each year on programs to improve the skills of foreign reporters, but rarely have its efforts helped produce such a media superstar as Khadija Ismayilova in Azerbaijan.
Ismayilova was 27 when she enrolled in her first U.S.-funded investigative workshop in Baku in 2003. At 30, she moved to Washington to work for the government's Voice of America, which trained her in broadcasting. Two years later, she returned home as bureau chief of the U.S.-funded Radio Free Europe/Radio Liberty (RFE/RL) and later, became a talk-show host and investigative reporter there.
Beginning in 2010, Ismayilova uncovered secret ownership amid government dealings in the telecommunications, construction, gold mining, hotel, media and airline services industries. Her bombshells won international awards and high praise from some in the State Department as well as anti-corruption groups worldwide.
But in Azerbaijan, in December, she was arrested and imprisoned. The hidden fortunes she revealed were those of Azerbaijan's president, Ilham Aliyev, and his family. She reported that they used their positions to vastly enrich themselves with public funds.
The charges against her — tax evasion, illegal entre­pre­neur­ship, embezzlement, inciting a suicide attempt and misuse of authority — did not cite her reporting. But U.S. and European officials and her employer say they are retribution for her articles, designed to quash her investigations and growing pro-democracy activism.
Earlier this month, Ismayilova was found guilty of all but the suicide charge and sentenced to 7 1/2  years in prison. She told the court that the government "won't be able to force me to stay silent, even if they sentence me to 15 or 25 years."
U.S. officials condemned the verdict.
"This sentence is clearly retribution for Khadija exposing government corruption and sends a warning shot to other journalists in the country," said Jeff Shell, chairman of the Broadcasting Board of Governors, an independent federal agency that supports independent media abroad. "The Azeri government has demonstrated to the international community that it disdains press freedom, supports its own impunity and has little regard for human rights."
Khadija Ismayilova's journey from U.S.-sponsored journalism workshops to a jail cell in Central Asia is also a tale of U.S. policy at odds with itself.
On the one hand, U.S. agencies and their affiliates train, fund and publish investigative reporters such as Ismayilova, who provide some of the last remaining independent news reports in Central Asia and Russia. Congress appropriated an estimated $64 million this fiscal year for programs to promote "media freedom and freedom of information" worldwide, according to State Department records.
But on the other hand, press freedom and human rights usually take a back seat in U.S. foreign relations to military, intelligence, oil or other business interests.
"The U.S. government isn't doing anything in terms of pressure and sanctions against the government of Azerbaijan to make it clear the jailing of Khadija and other journalists there is unacceptable," said David J. Kramer, a human rights specialist at the McCain Institute for International Leadership and former president of Freedom House. "There are other interests with Azerbaijan that have crowded out human rights concerns."
In March, two officials from RFE/RL and the International Broadcasting Bureau, an independent U.S. agency that oversees Voice of America, flew to Baku to discuss Ismayilova's case with the foreign minister, national security adviser, two other senior presidential advisers and the prosecutor and tax offices.
"I said, 'If you have specific information that contradicts her reporting . . . give it to us,' " said Jeffrey N. Trimble, deputy director of the IBB. He got nothing, he added, and "no hint of flexibility."
The Embassy of Azerbaijan declined to comment on questions submitted by The Washington Post.
Ali Hasanov, the presidential aide for public and political affairs, told media in Baku after the verdict that "Ismayilova faced criminal charges for committing concrete criminal acts unrelated to her journalistic activities. During the trial, the charges were fully proved and the adequate decision was made. That is why attempts to politicize the court's verdict about Ismayilova by some international organizations, officials of different countries and a number of international human rights organizations are unacceptable."
Before Ismayilova's arrest, Azerbaijani officials portrayed her as an enemy of the state because of her reporting and on-air commentary.
In a 60-page statement issued days before her arrest, Presidential Chief of Staff Ramiz Mehdiyev said Ismayilova "makes absurd statements, openly demonstrates destructive attitude towards well-known members of the Azerbaijani community and spreads insulting lies. It is clear this sort of defiance pleases Ms. Ismayilova's patrons abroad."
Ismayilova, 39, is being held in Kurdakhani prison, 30 miles north of Baku and home to some of the 80 other journalists and pro-democracy activists identified by U.S. and European governments. Speaking through intermediaries, she answered questions in writing for this article.
"We publish investigations because we value peoples' right to know," she said. "I expect people to struggle for their right to know, to try to hold corrupt politicians responsible."
Today the government owns all television stations, and virtually all newspapers are allied with the president.
"Azerbaijan has been a friend to the United States and a partner in the battle against radical Islam, but mostly it's their oil. It's important that [the oil] remains in a Western direction," said Rep. Steve Cohen (D-Tenn.), co-chair of the Congressional Azerbaijan Caucus.
Even so, Cohen said, President Aliyev "has talked about human rights, but we haven't really seen it." Cohen recently co-signed a letter to Aliyev, asking him to reconsider the closing of RFE/RL, which the police shuttered in December, and assure justice to Ismayilova, whose arrest the letter called "politically motivated."
Ask anyone who knows Ismayilova to describe her, and they usually chuckle to themselves first. "She gives you a healthy amount of headache," said Ayaz Ahmedov, a co-worker.
"She is the most courageous man in Azerbaijan!" said Altay Goyushov, a professor at Baku State University.
Ismayilova was raised in an intellectual household. Her mother was an engineer, and her father was the president of a company that made machinery for the oil industry. Their daughter was a stellar student. Khadija graduated from Baku State University with a master's degree in the Turkish language and literature and also speaks Russian.
She came onto the job market shortly after Azerbaijan gained its independence from the Soviet Union in 1992, and for the first time independent news outlets began springing up in the former Soviet republic.
Her first jobs were at alternative monthly newsletters for nonprofit organizations; then covering politics for a Russian-language paper; then as a deputy editor in chief of an English-language newspapers's Azerbaijan section.
Alakbar Raufoglu, a fellow journalist, first met her in the mid-1990s. "Sometimes people don't like her because she says everything to your face; she will not talk behind your back."
Ismayilova's exposure to U.S. journalistic techniques and mind-set came in 2003 amid a dynastic transition in Azerbaijan. That year, Ilham Aliyev replaced his father, Heydar, a former chief of the KGB branch in Azerbaijan and first secretary of the Communist Party there, as president of the country.
With Western help and investment, Ilham Aliyev developed Azerbaijan's oil and gas infrastructure and turned a country the size of Maine with a population of 9.6 million into a player at the center of multiple geopolitical competitions. Glass skyscrapers and garish displays of wealth sprang up in the otherwise crumbling downtown.
Sandwiched between Iran and Russia, Aliyev increased intelligence cooperation with Israel and the United States and allowed the U.S. military to use commercial airports to ferry troops and supplies into Afghanistan.
Ismayilova's pedigree can be traced to some of the finest American investigative reporting minds in the industry, a small, sometimes awkward group of junkyard dogs. They were among the first to realize the golden nuggets of information that could be found within banal government documents.
Her teachers included people like Don Ray, a California-based broadcast journalist famous among U.S. reporters as a pioneering document sleuth. Beginning in 2006, he taught Ismayilova and her colleagues to conduct what he calls a "bottoms-up investigation" that begins with a search of standard corporate, tax and property records.
Another teacher was Drew Sullivan, a onetime city hall reporter at the Tennessean, who founded the Organized Crime and Corruption Reporting Project (OCCRP), a nonprofit group that receives U.S. and other funding to teach reporters mostly in Central Asia and Eastern Europe how to do cross-border investigations. She also worked with a U.S.-trained Romanian computerized-records wizard, Paul Radu. Radu had built an online tool called Investigative Dashboard that contains corporate registries and company records worldwide, and much more.
Ismayilova would eventually combine Ray's scrutiny of documents, Sullivan's cross-border capabilities and Radu's Dashboard to produce the half-dozen fact-filled stories about the Aliyev family that got her in so much trouble. The training that all three men provided to Ismayilova was partly subsidized by U.S. government funds.
But one more thing was required to turn her into a full-fledged investigative reporter: passion.
In March 2005, a friend, investigative reporter Elmar Huseynov, who had published stories linking Aliyev to hidden business holdings, was shot dead at his doorstep in Baku by assailants who have still not been identified.
"That was the moment when I felt guilty," Ismayilova later told Ray in an interview. "I started crying — I just couldn't control it. I couldn't stop crying."
Ismayilova had dismissed Huseynov's work because he didn't document most of the allegations made about the Aliyev family, Ray said.
Only later did she realize that "he was a one-man band going after the powers that be" with none of the training she had to find the necessary paper trail, Ray said. "She did some self-assessment and realized that the spirit of what he was doing was correct, but he didn't know the best way to do it."
Deeply regretful, she promised herself that she would honor him by continuing his work and training others to do the same.
The turning point for Azerbaijani investigative journalism came only in mid-2010. In March, The Post published an article by one of its correspondents about an 11-year-old boy with the same name and birth date as the president's son who had spent $44 million on nine Dubai mansions.
Ismayilova had helped with the story but for safety reasons had asked that her name not be used.
The article, according to Raufoglu, the fellow journalist, "made the local media wake up. . . . We were asking ourselves, 'Why can't we write like this?' "
Ismayilova, he recalled, told colleagues: "Okay, we will call our colleagues abroad. We will figure out a way to prove everything we know."
Ismayilova's first bylined investigation was vetted and published by RFE/RL, once a Cold War propaganda outlet that has since evolved into the last remaining source of independent news in much of Central Asia and Russia. By then it broadcast only on the Internet, having been banned by the government from airwaves.
In August 2010, using documents from the State Committee on Financial Securities, Ismayilova and a colleague reported that an Azerbaijani holding company called SW Holdings had a near monopoly on recently privatized airline services to the state airline company, Azerbaijan Airlines (AZAL), including ticket sales, in-flight meals, technical upkeep, duty-free stores and taxi service.
SW Holdings, they wrote, was partly owned by Aliyev's then 21-year-old daughter, Arzu, and by the wife of AZAL's president.
"It is unclear where Arzu Aliyeva — who until now was best known for her role in an Azerbaijani tourism ad aired on CNN — may have acquired the estimated . . . $7.8 million . . . she used to acquire her initial stake of 29.08 percent" in SW Holdings, they wrote.
As president, her father, Ilham Aliyev, earns $230,000 a year.
The next article documented the meteoric success of Azerfon, a mobile phone company. Within three years, it had 1.7 million subscribers and was the only company licensed to provide 3G services. The government had insisted that the company was owned by Siemens, the German conglomerate.
Using Azerbaijani tax documents and the Panama State Registry of companies, Ismayilova walked readers through a trail of documents leading to three companies registered in Panama and the Caribbean tax haven of Nevis Island, and then to Leyla Aliyeva, 25, and Arzu Aliyeva, 22.
Every investigation drew threats and invectives from Azerbaijanis defending the president. In March 2012, Ismayilova received a letter containing still images from a video of her having sex with her then-boyfriend in her apartment. The letter writer threatened to air it if she didn't stop her reporting.
She immediately posted the threat on Facebook. "If they think they will stop me this way, they are wrong."
The video was aired two days later, but the tactic backfired. Even radical Muslims in the mostly secular Muslim country condemned what they said was the government's attempt to smear her.
Looking at the video, Ismayilova determined the camera angles and discovered phone wiring in her bedroom where the cameras had been, and followed it into her living room and bathroom. She found the installer, who recalled bringing the line to the apartment for a mysterious customer. Ismayilova asked prosecutors to investigate, but nothing came of it.
Two months later, she published two more investigative stories, jointly reported with OCCRP. One article probed the hidden ownership of a gold mining company which was widely believed to be British. Using official documents again, she reported that the president's two daughters owned part of the firm through four Panamanian corporations.
"The UK company is actually a front for the first family," Ismayilova wrote, "who stand to add to their already enormous wealth."
The second article revealed that a $134 million glass-and-steel auditorium rising up from downtown Baku for the upcoming Eurovision Song Contest 2012 was largely constructed by a company secretly connected to the president's wife and two daughters.
After those stories, parliament passed a law ruling that ownership of private companies could no longer be made public except by court order, by police investigators or with the owner's consent. Another law granted all presidents, ex-presidents and first ladies lifelong immunity from prosecution.
Ismayilova's articles fueled small pro-democracy protests in Azerbaijan calling for the Aliyev government to step down. She joined in, crossing a line that her Western mentors found uncomfortable.
Sullivan tried to get Ismayilova to stick to journalism, but she "felt she was in an historic time and needed to come out and explain what the government was doing" in a plain-spoken way people could understand, he said.
"She felt the government was so evil and abusive of the people that she had to pick sides," Sullivan said.
In early 2013, Ismayilova was arrested with other protesters in Baku and sentenced to community service, which she turned into another protest by sweeping the streets, joined by groups of her supporters. The government also questioned her about allegations that she passed secret documents to U.S. congressional staffers.
By now, the threats to Ismayilova had become routine but still worried her, friends said. Her tactic was always to publish them on social media, thinking that the publicity would give her protection.
But the threats escalated. Her mother's address was printed in a prominent newspaper, SES, under the headline: "Khadija's Armenian Mother Should Die." Armenia is considered Azerbaijan's main enemy.
It had become clear to Ismayilova that she would be arrested soon, a dozen of her colleagues said in interviews.
In September 2014, Thomas Melia saw her while he was serving as the U.S. envoy to an annual high-level European human rights meeting in Poland. As usual, they joked and laughed, then shared stories of how many more Azerbaijani journalists and activists they knew who had been imprisoned since the last time they met.
"I told her, 'Why don't you not go home,' " Melia recalled. " 'Stay here or go to D.C. Let things cool off.' "
She refused.
Melia recalled the last thing she told him before returning to Baku:
" 'If they arrest me, please speak out,' " he recalled her saying.
Sure enough, on Dec. 6, she was arrested and denied bail.
"I knew that I would be arrested," Ismayilova later said from prison in response to questions by The Post. "I am not a running-away type of person."
She was charged with driving her former boyfriend to attempt suicide. He drank rat poison, he said, but later confessed he had "defamed" Ismayilova because police forced him into it. After his about-face, he was charged with tax evasion.
Two weeks later, police stormed RFE/RL's bureau in Baku. They searched the safe, confiscated computers and sealed the office for reasons they have yet to clarify.
The raid came six days after Secretary of State John F. Kerry, who oversees $14 million in mostly economic assistance to Azerbaijan each year, telephoned Aliyev to complain about his human rights practices.
The president also then banned all foreign aid to independent media outlets and signed a law shuttering those accused of defamation twice in one year. Ismayilova's news outlet moved its operations to Prague. Some of its Azerbaijani journalists left with it for safety reasons; a handful remain in the country, keeping a low profile but reporting nonetheless.
In February, Ismayilova was charged with four other crimes — embezzlement, tax evasion, misuse of authority and illegal entrepreneurship — and denied bail again.
Kenan Aliyev, who hired her as RFE/RL bureau chief in 2008, said, "She's like this woman who's being insulted by the government, but she's still fighting back; like she's being raped, but she still fights back," he said. "She's saying. 'We shouldn't be afraid of this.' . . . She's now the symbol of Azerbaijan."
While she sits in prison, 20 of her OCCRP colleagues from 11 countries have banded together to carry on her work. A series of articles posted on the nonprofit organization's Web site under The Khadija Project further documents the wealth of the Aliyev family and their lobbying in the United States.
Ismayilova's imprisonment illustrates the limits of U.S. support for independent media as a critical part of durable civil societies worldwide. The Voice of America, whose editorials reflect U.S. policy and where Ismayilova was widely respected as a reporter when she worked there, did not editorialize on her behalf until she was sentenced on Sept. 1.
"The United States is deeply troubled by today's decision of an Azerbaijani court to sentence prominent investigative journalist Khadija Ismayilova to 7 1/2 years in prison," State Department spokesman Mark Toner said after the sentencing.
Previously, the State Department had issued only brief statements of support for Ismayilova, usually in response to a question posed at a briefing.
Colleagues and some members of Congress criticize the State Department for not doing more to gain her release, saying it has let oil and security interests dominate the relationship. The Senate Appropriations Committee has demanded an accounting of the department's steps to seek her release and that of a handful of other political prisoners.
Pro-democracy Azerbaijanis are particularly angered by what they see as Washington's inaction. "This back-door, under-the-table diplomacy just is not working anymore, and everyone is realizing this," said Arzu Geybullayeva, who fled under threats and is currently a Vaclav Havel journalism fellow at RFE/RL in Prague.
Tom Malinowski, the State Department's human rights envoy, defended the department's actions. "We have been pushing hard, and they have pushed back hard in ways that have affected the relationship," he said, but refused to give examples. "They understand what steps will be required to improve the climate, and the ball is in their court."
Ismayilova has her own opinion on the U.S. response to her predicament.
"Western politicians, who have compromised human rights and democracy values for energy and security cooperation, should know that corruption and organized crime does not know borders," she said from prison. "By tolerating these diseases in other countries, they open their own country for corruption."
Komuves is a Hubert H. Humphrey fellow at the Philip Merrill College of Journalism at the University of Maryland. Mabeus is a graduate student there. OCCRP's Khadija Project is edited by Drew Sullivan, whose brother, John, is a Washington Post investigative reporter. One of the project's editors is on the faculty with Dana Priest at the University of Maryland but was not involved with this article.