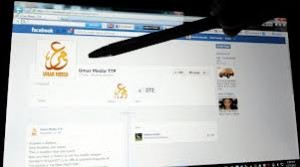 SAN FRANCISCO, Dec 12 : Facebook has taken down a page used by the Pakistani Taliban to recruit new fighters, a spokesman for the US-based social network site told AFP on Wednesday.
Earlier, the US-based SITE Intelligence Group said the Umar Media TTP page used Facebook as "a recruitment" tool.
This month, 270 users clicked a link to say they "like" the page. The account appeared to have been created in September and has just a handful of messages, written in English.
"At Facebook, we have rules that bar direct statements of hate, attacks on private individuals and groups, and the promotion of terrorism," a Facebook statement said.
"We have a large team of professional investigators both in the US and abroad who enforce these rules. Where abusive content is posted and reported, Facebook removes it and disables accounts of those responsible.
"Whenever we become aware of possible violations of our terms, we will investigate these instances and take action if violations of our Statements of Rights and Responsibilities take place."
In Pakistan, Tehrik-i-Taliban Pakistan (TTP) spokesman Ehsanullah Ehsan told AFP this month that the faction was "temporarily" using the page "to fulfill its requirements" before launching its own website.
The TTP mainly operates in Pakistan's tribal areas along the porous border with Afghanistan, where it has links with the better-known Afghan Taliban, and during a five-year insurgency has carried out many attacks inside Pakistan.
Last month, the TTP claimed responsibility for planting a bomb under the car of a prominent Pakistani journalist and TV anchorman, Hamid Mir.
In October, members of the group shot and wounded 15-year-old schoolgirl Malala Yousafzai in a failed bid to silence her campaign for girls' education.