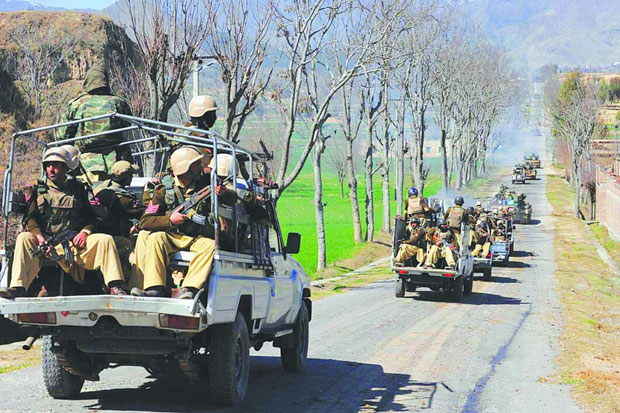 It is an axiom that Americans work hard and play hard.
What is less known, and at times baffling, are US moves that entail crushing the enemy on the battle field while engaging with its high profile leaders in private.
This fight hard, talk hard strategy – designed to do whatever it takes to succeed, is the hall-mark of a nation moving forward with super power strides. In this scenario, the US finger points to Pakistan's spy agencies ties with the Haqqani network, even while enlisting its help to negotiate with the Taliban militants.
The Obama war strategy has come full circle as the battle for Kabul enters a decisive stage. With the withdrawal of US surge troops from Afghanistan set in near stone for 2012 – the region has gone into a wait for the Americans to leave type of mode.
With winter fast approaching the fighting season for conventional NATO warfare has shrunk, even while the Taliban keep up their suicide attacks. In examples of guerrilla warfare, they are able to put down a rifle and pick up a plow… to return to fight another day.
Amid this seemingly unending war, the US is zeroing in on Pakistan to dissuade it from supporting Taliban militants who allegedly use the neighboring federally administered tribal areas to attack NATO troops in Afghanistan and return to their safe havens.
The murder of Afghan peace council chief, Burhanuddin Rabbani in September – for which Afghanistan blamed Pakistan – has shifted the strategy all round from talk hard to fight hard.
In her recent visit to Pakistan, US Secretary of State Hillary Clinton let out the frustration that America has been feeling in its inability to rein in Pakistan:
"You can't keep snakes in your back yard and expect it to only bite neighbors."
The reference was to Pakistan's policy of strategic depth, where the US claims that Pakistan backs Taliban militants like the Haqqani network in order to guarantee a friendly Afghanistan vis-à-vis its arch rival, India.
Clinton also played to the naiveté displayed by a member of the audience which met her on the occasion. The woman told the visiting Secretary of State that the US was like a "mother-in-law" that was never satisfied with what her "daughter in law" i.e. Pakistan did.
Laughter is of course the best remedy for tensions, even diplomatic ones – though it has little to do with the underlying causes.
Indeed, there have been major setbacks to US forces lately – topped last week by the deaths of 13 Americans hit by a suicide bomb attack in Kabul. These have occurred as NATO intensifies its assault on Taliban strongholds in southern Afghanistan that border Pakistan.
Bolstered by the US, the Karzai government has recently done a diplomatic dance with "brotherly Pakistan" – that involves signing a defense deal with India while assuring Pakistan of continuing neighborliness.
The Nov. 2 Istanbul conference on Afghanistan brought President Karzai to appeal to all nations to rein in militants, without singling any one of them.
Pakistan has still not recovered from the shock waves it suffered in May, when the US picked up Osama Bin Laden from under its nose in Abbotabad. Since then, the state has loosened the pressure valve on anti-Americanism. That has enabled politicians to hold rallies of the type held by Islamic parties under former president Gen. Pervaiz Musharraf.
At the same time, Pakistan sanctions US drone attacks in its tribal areas. In recent weeks, the US has intensified and diversified drone attacks here – from North Waziristan to chasing Haqqani fighters in the south of this belt.
For now, it is the interplay of military intelligence and diplomacy that swirls around the longest and most complex war of our times.