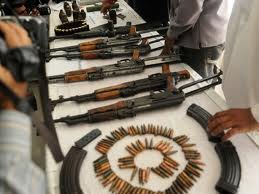 While it is normal practice for Pashtuns to bear arms, the Cold War gave them unprecedented access to the weapons that transited from Karachi to their native Khyber Pakhtunkhwa, which borders Afghanistan. It was a time when the former Soviet Union's invasion of Afghanistan in 1979 had forced three million Afghans to cross the porous borders into Khyber Pakhtunkhwa, formerly known as the North West Frontier Province. These were Pashtun Afghans who lived on both sides of the border and who followed their relatives in Karachi to look for work.
In Karachi, the Afghan refugees had congregated in Sohrab Goth – a tented village erected by the United Nations along the remote dusty wastelands of the city's Super Highway. In those Cold War days, I reported from the tented village after it became notorious as a drugs and weapons hotspot. The turbaned Afghan Mujahideen, who toured the camps, hunted for young recruits for the US-funded jihad against the former Soviet Union. Sohrab Goth was a home for Afghan refugees and a depot for heroin. The army's National Logistics Cell (NLC) trucks, which carried US arms and ammunition to the Mujahideen in the north, were widely rumored to return carrying heroin to be sold in Karachi.
By December 1986, Karachi's Pashtuns – flush with drug money – had stocked a sizeable cache of weapons in a desolate area north of Karachi called Orangi Town. The Pashtuns lived here in brick and stone homes atop the rugged cliffs, much as they did in the hilly tribal regions that border Afghanistan. Their homes jutted menacingly over a sea of Mohajirs – including almost a million Biharis who had settled here after 1971, when Pakistan's eastern wing, "East Pakistan," seceded and became Bangladesh.
My early recollections of Orangi Town go back to 1972, when as a schoolgirl I was brought by my father to work with humanitarian organizations in order to help the Biharis resettle in Karachi. The Bengali nationalists accused the Biharis of collaborating with the Pakistani army during the 1971 war. In fact in 1947 many Muslim Biharis had opted to migrate from India's Bihar state to what was then East Pakistan. They ended up making a double migration in 1971 when they opted to join the Urdu speaking community in Karachi. Subsequently, 1 million Biharis were resettled in Orangi town by Zulfikar Ali Bhutto's government.
As a teenager, I made trips with my father to the deserted area in the north of Karachi to help an exhausted paramedic serve the poor, malnourished Bihari patients. Hundreds of refugees queued outside our makeshift clinics for cough and cold medicines. As the overworked dispenser dished out the medicines that I handed to him, his fantastic claim sparked my imagination: "I'm so busy I don't even have the time to die!"
Fifteen years later, these poor Biharis – who had left war- ravaged Bangladesh to become Karachi's newest Mohajirs – faced the wrath of angry Pashtuns. It was mid-December in 1986 and well past our newspaper deadline when an army of Pashtuns equipped with machine guns charged down the Orangi hills. They made use of the mud walls erected on the hills, shooting and ducking for cover. As the aggressors rained fireballs from their fortresses, the Mohajir areas below them – the Aligarh and Qasbah colonies – went up in flames.
The violence continued into the wee hours as both ethnic groups displayed the worst of human nature. It was reported that Mohajir babies were snatched and thrown into burning oil while Pashtuns were tied up and sliced to pieces in revenge killings. The cycle of violence raged for the next few days and cut off Orangi from the rest of Karachi.
Late at night, as the fires raged in Orangi Town, I got a phone call from a national public radio station in the US asking for the news. I filed my report, thousands of miles from America. It filled me with awe that Orangi Town – which I knew as acres of hilly desert with mud homes and little access to clean drinking water and sewerage – had made international headlines.
It was no less amazing that Orangi had become the scene of clashes between two very different refugee groups – the Biharis from South Asia and the Afghans from Central Asia – separated by thousands of miles of territory. Their peoples had migrated to Karachi to find peace because of the wars that had uprooted them from their respective countries. And now once again their lives were being turned around by bloody ethnic warfare.