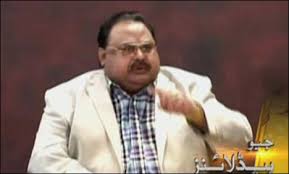 LONDON, Aug 27: Muttahida Qaumi Movement (MQM) chief Altaf Hussain terming all demands of Pakistan Awami Tehreek (PAT) chief Dr Tahirul Qadri as 'valid', has said that it would be in the country's interest if the government voluntarily stepped down to avoid any bloodshed, DawnNews reported.
Talking about the anti-government sit-ins being held in the federal capital city and a possible government reaction, Hussain said that the government should consider the safety of women and children, participating in the sit-ins.
He further cited that the 'third force' would have to intervene, if Tahirul Qardi did not step back voluntarily.
Also read: Altaf calls for resolving dispute to avert martial law
"No one calls for a Martial law or ventilator with delight," he added.
MQM chief said that amendments could be made in the demands through dialogues, but added "How can the talks prevail if the government refuses to accept valid demands?"
He made it clear that he had no intentions of becoming prime minister, nor president, but only wanted a peaceful atmosphere in the country.
The MQM chief said that he considered any one in opposition to the local governmental system and power of the people as an enemy of democracy.
It is worth mentioning here that contrary to MQM's balanced stance, where Altaf Hussain urged both sides to neutralise tensions, the party has pressed the government to step down in a changed scenario.
Earlier on Wednesday, Tahirul Qadri announced 'Revolution day' while Imran Khan also declared to put talks on hold till the resignation of Prime Minister Nawaz Sharif.
Both PTI and PAT have been holding anti-government protests and sit-ins in Islamabad's Red Zone area and are demanding Prime Minister Nawaz Sharif's resignation.