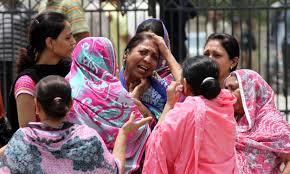 KARACHI, May 13  – Gunmen on motorcycles boarded a bus and opened fire on commuters in Pakistan's volatile southern city of Karachi on Wednesday, killing at least 43, police said, and militants affiliated with Islamic State claimed responsibility.
The pink bus was pockmarked with bullet holes and blood saturated the seats and dripped out of the doors on to the concrete.
"As the gunmen climbed on to the bus, one of them shouted, 'Kill them all!' Then they started indiscriminately firing at everyone they saw," a wounded woman told a television channel by phone.
Police Superintendent Najib Khan told Reuters there were six gunmen and that all the passengers were Ismailis, a minority Shi'ite Muslim sect. Pakistan is mostly Sunni.
Militant group Jundullah, which has attacked Muslim minorities before, claimed responsibility. The group has links with the Pakistani Taliban and pledged allegiance to Islamic State in November.
"These killed people were Ismaili and we consider them kafir (non-Muslim). We had four attackers. In the coming days we will attack Ismailis, Shi'ites and Christians," spokesman Ahmed Marwat told Reuters.
Later a Twitter account from militants identifying themselves as Islamic State claimed responsibility. It was not possible to verify their claims and they did not provide details of the attack.
"Thanks to God 43 apostates were killed and close to 30 others were wounded in an attack by the soldiers of Islamic State on a bus carrying people of the Shi'ite Ismaili sect … in Karachi," said a statement distributed on Twitter by a group calling itself Khorasan Province Islamic State.
Several Pakistani splinter groups have pledged allegiance to Islamic State, and some individuals claim to have been to the Middle East to meet IS militants. But so far there are few signs of major operational, financial or personnel links.
At least 43 people were killed in the bus attack and 13 wounded, provincial police chief Ghulam Haider Jamali told media.
Outside the hospital where the wounded were taken, and where the bus was parked, scores of young men formed a human chain to block everyone but families and doctors.
Emails and Facebook posts on Ismaili pages encouraged the community not to respond or say anything that might further endanger them.
Prime Minister Nawaz Sharif said he was saddened by the attack.
"This is a very patriotic and peaceful people who have always worked for the wellbeing of Pakistan," he said. "This is an attempt to spread divisions in the country."
MILITANT THREATS
Uzma Alkarim, a member of the Ismaili community, said the bus took commuters to work every day. The Ismailis had faced threats before, she said.
"Around six months ago, our community elders had alerted us to be careful because of security threats but things had calmed down recently," she said.
English leaflets left in the bus were headlined "Advent of the Islamic State!" and used a derogatory Arabic word for Shi'ites, accusing them of "barbaric atrocities … in the Levant, Iraq and Yemen".
The leaflets also blamed Shi'ites for a deadly sectarian attack in Rawalpindi, near the capital Islamabad, and raged against extrajudicial killings by police, naming a local officer.
In January, 60 people were killed when Jundullah bombed a Shi'ite mosque in the southern province of Sindh. The Taliban bombed another Shi'ite mosque in the northwest city of Peshawar weeks later.
Both the Taliban and Jundullah claimed the bombing of Wagah border crossing last year, which killed 57 people. Jundullah also claimed a church bombing that killed more than 80 people in Peshawar in 2013.
Many religious minorities accuse the government of not doing enough to protect them. Police are underpaid, poorly equipped and poorly trained.
(Reporting By Katharine Houreld)