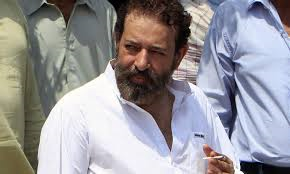 Iron Man, SP Khan, the lead character of the Bollywood movie Shootout at Lokhandwala and our own late Sultan Rahi of Maula Jatt fame; my friend, Chaudhry Aslam has been compared with all of these. However, the former three were merely fictional, while Aslam was the real character. After Friday prayers this week, in a leafy suburb of West London, prayers were said for his departed soul with everyone present uttering a louder than normal and heartfelt 'ameen' as if they all knew Aslam. This only proved that he had developed a global following, just like all these fictional heroes he has been compared with.
I can recall the early days when I got to know Aslam as a sub-inspector, serving under my late father Arif Jah Siddiqui in District Central, Karachi. Aslam had his first posting as SHO of the Gulbahar police station. Two things were very clear from the onset: he was devoted to eradicating crime and was fearless to a fault. He never had time to deal with the bureaucracy of police work — and believe me, there is a lot of it if you are responsible for a police station or a team. He would delegate all this to his trusted subordinates and instead, took up the onerous task of patrolling the roads and narrow lanes of his area. He always believed that if policemen were doing their jobs out in the open, people could see them and feel more secure, while criminals would think twice before committing a crime. His style was uncomplicated and that was the reason that officers and jawans developed a strong loyalty to him.
Aslam encountered many difficulties during his career; however, his morale was never subdued. He was imprisoned for more than a year and a half. Even during this period in Central Prison Karachi, whenever I visited him, he was in good spirits and this kept the morale of his fellow imprisoned officers and jawans high as well. He was a man with a big heart and took special care of his subordinates and their families, giving both his time and money generously to help them in their hour of difficulty. When he was bailed, he made sure that every member of his team was treated fairly. Finally, all of them were acquitted of the charges that had been levelled against them.
Despite getting rapid promotions, he never gave up frontline detective and investigative work. As a matter of routine, he would be busy all night, seeking information, planning surveillances, plotting raids and travelling to some of the most hostile parts of Sindh and Balochistan to assess the ground realities. This hard work and diligence made him a very successful police officer. He would delegate tasks but would never lose control. The junior officers knew that their boss was very much on the ground, so they had to do their jobs as thoroughly as possible.
The other aspect of his personality was his accessibility to everyone, including the vast network of his informers, journalists, colleagues and friends. He would answer his mobile directly, so much so that if anyone needed to meet him in his office, one would just need to call him on his mobile and he would ask the guard to allow the guest to come through the checkpost. He was a people's man and had no desire for protocol, a secretariat or a posh office.
From the time he took command of the anti-extremist cell of the CID, he had to severely restrict his movements. Whenever, during my visits to Karachi, I went to see him, we would walk around the CID compound for hours exchanging notes. On occasions, I felt that he had huge pent-up energy, which needed to be released but he did not have the luxury to vent it like a normal person would, by freely moving around the city and socialising. On these instances, he came across as a lion in a cage, pacing the available space up and down.
Aslam had made many enemies, a negative fallout for all diligent police officers. The principal reason for this was that he was among the very few officers, who had the courage to take action against all types of criminal syndicates operating in Karachi. There have been some discussions about his approach towards eradication of crime. He has been marked as brutal and unforgiving. I question these commentators as they may not know the circumstances under which these officers are required to keep the average citizen safe and secure. They work on severely depleted resources, are under constant threat as are their loved ones and know that one wrong step can get them embroiled in litigation, and they may even end up facing imprisonment. Is there any other profession where a person takes on such enormous risks? One should not forget that the police service is merely a reflection of the society it serves and we fall far short of being an ideal society.
Aslam's martyrdom is an international tragedy. His work has been instrumental in stopping large terrorist attacks in Pakistan and other countries. He delivered results at the frontline of the war on terror and in the end, gave his live in protecting innocent citizens, and eradicating crime and terror from this world.
I met him on January 31, 2013 at the funeral of another martyred officer. Little did I know that this would prove to be our last meeting. I pleaded strongly with him that he should take a break from this madness of fighting terrorism and come with me to the UK. He responded in his typical friendly style, "Aftab bhai would you take the whole of Karachi with you?" I said I could not do that but wanted him to come with me, and he said, "Bhai, don't worry. I will be okay here," and that was Aslam. I will always remember him as a man of high morale and a police officer dedicated to his profession to a fault.
Published in The Express Tribune, January 12th, 2014.