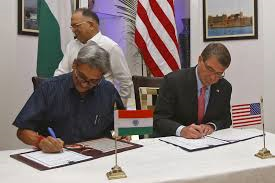 NEW DELHI and the United States have sealed an agreement to jointly develop protective gear for soldiers against biological and chemical warfare, and another on building generators, defense officials said on Wednesday.
The projects were cleared as U.S. Defense Secretary Ash Carter held talks with Indian leaders to expand security ties between countries that were on opposite sides of the Cold War but have since drawn closer against the rising weight of China.
The United States has become one of the main sources of weapons for the Indian military, and under Prime Minister Narendra Modi's "Make-in-India" program has offered joint development and production of military technologies.
While the two projects approved are modest in scale, India and the United States are also exploring collaboration at the higher end of technology, Carter told reporters.
"We have big ambitions, and jet engines, aircraft carrier technology are big projects that we're working very hard on," he said.
Carter signed a new 10-year defense cooperation pact with his Indian counterpart Manohar Parikkar and agreed to work on enhancing cooperation in maritime security, according to a joint statement released after the two leaders met.
The two countries conduct annual naval exercises in the Indian Ocean, where China has increased its presence in recent years.
In a separate meeting, Carter and Modi discussed "the recent developments in the Indian Ocean and the Asia Pacific region", Modi's office said in a statement.
The projects on protective clothing and next-generation power sources for the battlefield will each have $1 million in funding shared equally by the two sides, a U.S. defense official said.
"We've negotiated texts, we've agreed to texts and they'll be signed into effect at the end of this month," the official said. "We went from flash to bang, meaning from the joint statement in January to agreed to and signed texts in just under five months,"
India is also eyeing U.S. aircraft launch technology for a carrier it plans to build to replace an aging British warship. The two sides have set up a working group to explore cooperation and the defense official said military officials will meet later this month in the United States.
Carter and Parikkar agreed to expedite talks on cooperating on jet engines and aircraft carriers.
"We have the pre-eminent aircraft carriers in the world. They are excited about possible collaboration. There are multiple areas of possible collaboration. It's a huge platform," the U.S. official said.
(Additional reporting by Tommy Wilkes and Krishna N. Das; Writing by Sanjeev Miglani; Editing by Jeremy Laurence)