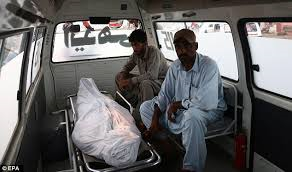 Pakistan has executed three Baloch separatists who hijacked a plan and attempted to fly it to India in the hope of disrupting Islamabad's first nuclear tests.
Two of the men, Shahsawar Baluch and Sabir Baluch were hanged in Hyderabad prison in southern Sindh province while the third, Shabir Rind, was hanged in Karachi, officials said.
The executions were carried out on the 17th anniversary of the tests, which made Pakistan the world's seventh nuclear-armed power – a landmark event for the impoverished Muslim country of 200 million people.
Prime Minister Nawaz Sharif lifted ban on the death penalty for those convicted on terrorism charges on December 17 last year after Taliban gunmen killed 136 children at an army-run school.
The trio were sentenced to death for hijacking a Pakistan International Airlines aircraft with 30 passengers on board on 24th May 1998 – four days before the country's first nuclear test.
The flight took off from the port town of Gwadar in Baluchistan and was set to land in the southern port city of Karachi when the men stormed the cockpit and tried to force the pilot to fly to India.