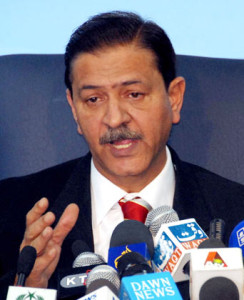 ISLAMABAD, Jan 16: Retired Brigadier Javed Iqbal Cheema, former director general of the National Crisis Management Cell (NCMC), told a Rawalpindi Anti-Terrorism Court (ATC) on Friday that he had addressed a press conference following the assassination of Benazir Bhutto after discussing it with the spymasters and then secretary interior.
This statement differs from the one the Federal Investigation Agency (FIA) produced before the ATC on February 7, 2011, where the prosecution included Brig Cheema as a prime witness against former president retired General Pervez Musharraf, in connection with the Benazir murder case.
As per Brig Cheema's previous statement, submitted by the FIA along with case challan, the former DG NCMC was quoted as saying that a day after Ms Bhutto's assassination, on December 28, 2007, he held a press conference on the advice of Gen Musharraf. In the FIA's version of Brig Cheema' statement, he maintains that he held the press conference, in compliance with Gen Musharraf's orders, to dispel the negativity against the regime, that prevailed in the aftermath of the assassination.
Brig Javed Iqbal Cheema says he was told by spymasters to present Baitullah's video claiming responsibility for assassination
A reporter who attended the press conference in question told Dawn that during the presser, Brig Cheema had said that the cause of Ms Bhutto's death was an injury to the head, sustained when her head hit the sunroof lever of her own vehicle. The second thing he disclosed during the press conference was that Baitullah Mehsud, who was the leader of the banned Tehreek-i-Taliban Pakistan at the time, had claimed the responsibility for the attack in a video message.
Brig Cheema had also shared the video — where Mehsud had indirectly claimed responsibility for the assassination of Benazir Bhutto — with members of the press corps.
But on Friday, when the prosecution produced Brig Cheema as a witness before the ATC, he told the court that the decision to hold the press conference was taken by then-interior secretary Kamal Shah.
He said that before the press conference, he was summoned to the headquarters of the Inter-Services Intelligence (ISI), where he met the interior secretary and the heads of the ISI, Military Intelligence and Intelligence Bureau.
He told the court that the spymasters briefed them about their meeting with Gen Musharraf and handed him the video and instructed him to hold a press conference to this effect. He also told the court that he also consulted then-interior minister retired Lt-Gen Hamid Nawaz before holding the press conference.