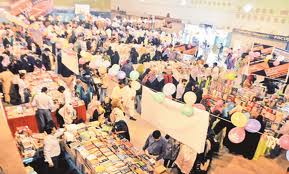 Karachi, Feb 7: The Karachi Literature Festival (KLF) begins in Karachi at the Beach Luxury Hotel till February 9. It will have 100-plus sessions featuring 200 speakers from 11 countries.
Over 180 Pakistani and 34 international authors, poets and academics will grace the Festival.
According to Ameena Sayyid and KLF director Asif Farrukhi awards will be given to authors for three different prize categories: KLF-Coca-Cola Best Non-Fiction Book Prize, KLF-Embassy of France Prize, and KLF Peace Prize.
The panel of judges for the prizes include some of Pakistan's most eminent critics, writers and scholars, who have short-listed three books for each prize category.
According to the programme, proceedings on the opening day will commence with a discussion with Moni Mohsin; a session titled 'The Power of the Fourth Estate'; and a session on Faiz. These will be followed by a conversation with Mustansar Hussain Tarar; a session with Bushra Ansari; a session on 'Literature and Music in Pakistan' with Tina Sani, Zeb Bangash, and Sarmad Khoosat as panellists; readings by Intizar Hussain with the launch of Silver Jubilee edition of his novel Basti, and a conversation with Rajmohan Gandhi. The first day will end with a Mushaira.
Important sessions on the second day of the festival include 'Contemporary Fiction at Home and the Diaspora'; New Voices in Sindhi Poetry'; 'Shayer e Awam: Habib Jalib'; 'Glitter of the Silver Screen'; 'Qawwali Music and the Sufi Poetry Tradition'; conversations with Kamila Shamsie, Uzma Aslam Khan, Zehra Nigah, and Raza Ali Abidi; dramatic storytelling by Nadia Jamil; and Dastangoi by Danish Hussain, Darain Shahidi and Mahmood Farooqui.
Highlights of the third day will include sessions on 'Baloch Literature and Landscapes'; 'Karachi: From Stone Age to Cyber Age'; 'Bringing Down the Gender Walls'; 'Drama and the Small Screen' with Haseena Moin, Sultana Siddiqui, Shakeel, Seema Taher Khan and Attiya Dawood as speakers; conversations with Ashis Nandy, Navid Shahzad, Mohammed Hanif, Amar Jaleel, and Abdullah Hussain; Readings by Zia Mohyeddin;  'Chulbuk Chori' a play by Thespians Theatre; screenings of Sharmeen Obaid Chinoy's films; kathak performance by Nahid Siddiqui; and a concert by Laal.
The festival will include launches of about 28 books including Dr Rajmohan Gandhi's book Punjab: A History from Aurangzeb to Mountbatten, The Kashmir Dispute 1947 by A.G. Noorani, I'll Find My Way an anthology of short stories edited by Muniza Naqvi, The Rest is Silence: Zahoor ul Ikhlaq: Art and Society in Pakistan, Jazeera Sukhanwaran by Ghulam Abbas, Delhi by Heart by Raza Rumi, The Prisoner by Omer Shahid Hamid, Urdu Afsanay by Hasan Manzar, and What's Wrong with Pakistan? By Babar Ayaz.