The British exited India just as Pakistan was carved out of it in 1947.  As a child in the 1960s I grew up in the bubble they left behind. Being a well-off new Pakistani, my father was among the select few to become a member of the Karachi Gymkhana. The gymkhana was part of a chain of exclusive clubs left by the British. It had red Spanish roof tiles, lush green lawns and had, up until partition, displayed the sign:
"Indians and Dogs not allowed."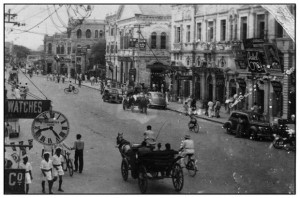 We were seeped in Western culture, wearing shorts and frocks to the clubs, which were frequented by European families. It was at the Karachi Gymkhana that I saw blond and blue-eyed kids for the first time. I was fascinated: they looked just like the golden-haired dolls my mother brought back from Europe. And yet times were changing, as we locals with darker hair and eye color began to inherit their privileges.
In those days, Karachi was dotted with bookstores and lending libraries. The exposure to English literature would open up new and exciting worlds. As a teenager, I came across D.H. Lawrence's Lady Chatterley's Lover, with its vivid descriptions of sexuality. The expression of shame on my relative's face as he took the book from me made me aware of the high premium society placed on female chastity. Indeed, in a rapidly Islamizing society in which women joined the ranks of the veiled and unseen, it was difficult to believe that men did not obsess about female sexuality in the recesses of their minds.
My earliest memories of Karachi are of a city developed in 1843 by the British from a sleepy fishing village to a seaport and a well-planned city center with theaters, clubs, hotels, and coffee-shops and bookstores. By the 1960s, the Mohajirs had completed their major migrations from India to the newly created Pakistan. Still, it was a relatively calm period in which the refugees arrived with smaller families and fanned out to rural Sindh in search of job opportunities.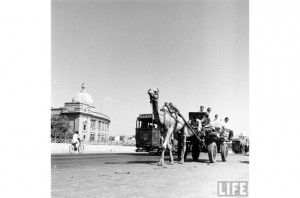 The creation of Pakistan had been a symbol of immense hope for India's Muslim refugees. They arrived from all parts of India: young and old, rich and poor, by train and by bus. Those who crossed the border by foot hoped to achieve the prosperity that they never dreamed of attaining in predominantly Hindu India. In a short time, they would give up hopes of finding job opportunities in the rural areas of Sindh and begin to converge on Karachi.
Twenty years later, I saw how the convergence of ethnic groups, fighting over a shrinking economic pie, would the stoke the fires of intolerance and political instability. Until such a time, Karachi was a clean and quiet city. We took leisurely walks at night around the city's showpiece, Frere Hall, enjoying the cool summer breeze from the Arabian Sea.
We could not have predicted that the well-planned British built city of Karachi would grow into a sprawling, unplanned metropolis and a hotbed for ethnic and sectarian violence.  Nor could we foresee that the US consulate located across Frere Hall would become a repeated target of bomb attacks, with its fortified presence becoming symbolic of anti-American sentiment.
Back then, as my father's antique Austin car inched its way through the city, I sat up and watched for new titles of English movies screened at Rex, Palace, Odeon and Lyric cinema houses. Perched on top of the Bambino cinema house, owned by Hakim Ali Zardari – father of President Asif Ali Zardari –  was the object that made me sit up with special interest: a flashing blue neon sign with the image of a woman dancer gyrating her hips.
Inside, wide-eyed audiences watched classic movies like Toby Tyler and Gone with the Wind. It did not matter that the crowds did not understand English. Through the movies came the images of Western culture – where women mixed freely with men – and one saw the trappings of great material wealth and progress.