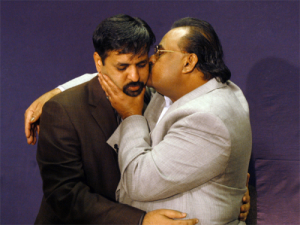 KARACHI, March 3 – After a prolonged absence from the local political scene, former city nazim of Karachi Syed Mustafa Kamal was holding a press conference in Karachi on Thursday.
The joint press conference with his former fellow Muttahida Qaumi Movement (MQM) leader Anees Qaim khani was being held in DHA phase 6 area of Karachi. Kamal had said that he would apprise the media over key matters.
Addressing the media, Kamal lashed out sharply at MQM chief Altaf Hussain, with whom the former Karachi mayor has had a falling out since years. Kamal said that his press conference would be divided into three parts. "First part will be about why I and Anees left the party. Second, why we have cameback, and what we will do next."
Kamal said that Altaf had insulted workers several times in public meetings, especially once in May 2013 when he changed the party set up overnight. "How can a commander insult his sepoys other than to serve him?"
"We have returned today because every child of Pakistan, every party, the establishment of Pakistan as well as the present and past government's know, that Altaf Hussain has links with the Indian intelligence agency RAW," he alleged.
He recalled that during his time in the MQM, the Rabita Committee would be degraded and insulted by Altaf Hussain within weeks and months but recently the situation became such that the Rabita Committee would be insulted every few minutes.
What was first done in private settings was being done in public through media channels, he said. He recalled how the MQM Rabita Committee was manhandled by people when the PTI secured 800,000 votes.
He also revealed that a time came when former interior minister Rehman Malik would dictate the press releases for MQM, adding that Malik had access to the MQM chief even more than MQM leaders.
Syed Mustafa Kamal served as a city nazim of Karachi from 2005 to 2009. Both the leaders were appearing before the media after almost three years of absence from the political scene in Karachi.
Senior journalist Talat Hussain said that the two leaders, who have been estranged from the MQM for years, might provide an alternate leadership to voters of the MQM.
Sources told that the MQM leadership has called its workers and top activists to the party's secretariat in London, where party chief Altaf Hussain is based.
According to the sources, Altaf is also expected to be present at the meeting. But MQM senior leader Wasay Jalil rejected the news of the emergency meeting. "Neither any meeting has been summoned nor workers have been called in London," said the leader in a message posted on Twitter.
The MQM leadership has remained tight lipped about the press conference stating that it will only comment after the press conference takes place.