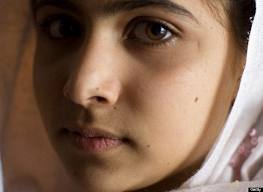 "I AM worried about Malala. The whole of Swat is worried about her. But every girl in Swat is Malala. We'll educate ourselves. We will win. They can't defeat us."
This was a teenaged classmate of Malala Yousufzai being interviewed live on TV from Mingora. Steeped in courage, her words were delivered with indescribable resolve, a beaming face. Such resolve that a pessimist like me felt she was delivering a stinging slap on my cheek.
Then there was Kainaat. She was travelling in the same school van as Malala and was also wounded in the attack. Her determination appeared equally steely. She was certain nothing was going to stop her from returning to school with the eventual aim of becoming a doctor.
Then as one surfed channels many more Malalas were expressing admiration for their iconic schoolmate. Not one appeared unsure of the way forward. What can you do but salute the tenacity of the girls as well as their lion-hearted parents?
And the teachers. Malala's teacher spoke with great pride, warmth and affection for his student, the child prodigy: "Such children aren't born every day. She's such a gifted child. It is our collective responsibility to support her, protect her. The government must do its part."
Many months ago when this column focused a tad too frequently on the content of Pakistani TV discussion programmes, my editor advised against too much focus on this one area. He was right.
On this particular occasion, however, one was grateful for the idiot box as a diversity of opinion was beamed directly into the comfort of one's study. This is where the gratitude ended. To say that the entire spectrum was not welcome would be an understatement.
Pakistan has come to represent such a roller-coaster that it seems to strive daily to live up to Dicken's words: "… it was the season of light, it was the season of darkness, it was the spring of hope, it was the winter of despair …"
The TV output was no different. It mirrored society.
There was good news. Despite being shot at point-blank range in the head, Malala was somehow going to defy the assassin with her now legendary single-mindedness. She would survive. There were also the voices of her courageous (the word seems so inadequate) friends and classmates.
But then Jamaat-i-Islami's former amir Qazi Hussain Ahmad made an appearance. He seemed to condemn the attack on the teenaged Swat student and in the same breath also condemned those who, in his words, "used Malala". He didn't elaborate. Neither was he asked to.
This was the first in a series of 'we condemn the attack but…' statements. Qazi Hussain Ahmad was not the only one who was not willing to condemn this dastardly attack without qualifying his condemnation. Many others created binaries where none existed.
Imran Khan came in for stick on social media for his perceived support to the Taliban but hasn't he demonstrated his disdain for extremism? Wasn't he one of the few politicians in the country to visit the bloodied Shia-Hazaras in Quetta, in rushing to Chilas after the mass murder of Shia travellers?
Referring to the attempt on Malala's life, he talked about the scourge of extremism which he mostly blamed on the US-led war on terror. When the presenter pressed him to name the attackers, Imran Khan reluctantly said the Taliban.
When asked to condemn the Taliban, he was open in saying his party had a presence in Khyber Pakhtunkhwa and Fata and that he didn't want to give statements condemning the Taliban and leave "my party workers undefended" at their mercy.
This statement at least clarified that he has shied away from unequivocally slamming the Taliban for the sake of his party workers' safety and not on ideological grounds. One suspects the PTI leader understands the sort of threat the ANP and PPP must face at each of their public events.
This must be a major handicap for his rivals. As election approaches, the PTI is able to gather large crowds every few days in relative safety. Mr Khan must be hoping this generates enough momentum to have a snowball effect at the poll, leaving his Taliban-targeted opponents stranded.
This may be a fantastic tactical move. One hopes he has strategic options up his sleeve so he doesn't end up risking a Kargil-type situation. Our army has scored similar own goals including the one manifesting itself in the militant threat that has claimed thousands of our soldiers besides civilians.
It was never a conflict we could afford to lose. Factors such as archaic tribal and feudal practices mean a steady diet of abuse of women's rights anyway. Whether jirgas sanction wani or honour killings; whether it is gang rape or acid attacks we know the victim is almost always a woman.
Now religious extremism has created a new form of women's oppression. This may owe its birth to a parallel national narrative contrived in the Zia years but it has also grown, gone from strength to strength unchallenged since. Before we move on it is vital to decide on one, single narrative.
Otherwise, this mix of confusion, polarisation and the paralysis it causes will destroy us. We have to somehow acknowledge we live in the 21st century, and are part of a larger world.
Women are more than half our population. Isn't it an economic and social imperative that women and men are equal?
The Taliban and other forces of darkness would so wish they could do here in all public spaces what the well-known Swedish store chain Ikea did in Saudi Arabia: airbrush women models off their catalogue.
Thank God they can't. Malala stands in their way. Their ideology may be toxic; her determination is life-affirming. Just imagine what'll happen if Malala inspires millions of people, particularly the weak-kneed like me, to stand up for once and be counted.
The writer is a former editor of Dawn.
abbas.nasir@hotmail.com