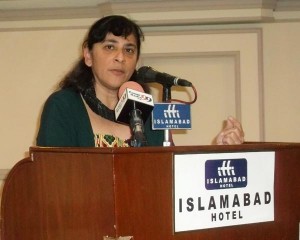 ISLAMABAD, Feb 19: Aboard the Democracy Train, a book by Nafisa Hoodbhoy, launched on Tuesday at a ceremony organised by the Strengthening Participatory Organisation (SPO). In the book, the author recounts her experiences as the only female reporter of a leading daily newspaper at that time.
"Unfortunately we are on a train that is leading us to a failed state, more than towards democracy," said Ayesha Siddiqa, a political and military analyst, while addressing a book launch ceremony. She said that such personal narratives were imperative so that the nation can learn from the past mistakes and deal with the hazards and menaces that have surrounded Pakistan today.
National Commission on the Status of Women Chairperson Khawar Mumtaz presided over the event. SPO Chief Executive Naseer Memon, Senator Mir Hasil Khan Bizenjo, veteran journalists Zahid Hussain and M Ziauddin and the author also spoke on the occasion besides others.
Khawar Mumtaz congratulated the author on completion of this thorough account and said the book was a good reminder of the fact that the violence has its roots in history. Senator Bizenjo said that reading the book took him back in the era of the 1980s where ethnic violence took routes and later spread to the entire city, the devastating effects of which can be seen today.
Nafisa Hoodbhoy, the author, researcher and the broadcaster, told the gathering that apart from her front line experiences she has examined the circumstances in the post-9/11 scenario. "I have also tried to pick up on mafias that lead to the death of Benazir Bhutto, a two-time former prime minister," she said.
"As the only woman reporter in Dawn newspaper (1984–2000), I was curious about the connection between day to day events and stored them in memory to tell the world some day about the larger picture. "My access to leading politicians and places would go on to feed a narrative on Pakistan that has normally been hidden from the public view," she said.
"In using my personae, I have tried to break down the complex history and politics of my home country – which despite its small size is a big player on the global scene," she said. "I have used my knowledge as a journalist on both sides of the Atlantic to trace the path taken by the nation to where it has arrived," she said.
Source: http://webcache.googleusercontent.com/search?q=cache:D9KAJC0eMj4J:thespokesman.pk/index.php/template/politically-incorrect/itemlist/user/940-thespokesman%3Fstart%3D92+&cd=2&hl=en&ct=clnk&gl=us