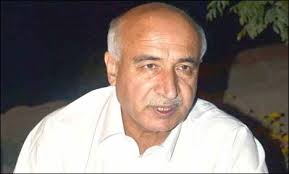 Islamabad, May 25: PML-N top leaders after rejecting Nawab Sanaullah Zehri as leader of the house in Balochistan decided to elect Dr. Abdul Malik Baloch, President of the National Party, NP, as the new chief minister of the troubled province Balochistan sources said.
Baloch's name for the niche of chief minister was proposed by Mehmood Achakzai, the head of top Pashtoon Nationalist party Pashtoonkhwa Milli Awami Party couple of days back.
"We have decided to support Dr. Malik as the Chief Minister of Balochistan as he is the deserving candidate of the slot," senior leader PKMAP Muhammad Akram Shah told Balochistan Chronicle.
He said, Mehmood Khan Achakzai had made it clear before PML-N leaders that Dr. Baloch would be their choice as a leader of the house in Balochistan Province.
Baloch Nationalist Party, (NP) chief Dr.Malik Baloch has been elected third time as an MPA in Balochistan Assembly, and he has also served as a senator in the country.
Earlier when late Nawab Akber Bugti was chief minister in Balochistan  Dr.Malik remained as a member of the cabinet and was provincial minister of education in Baluchistan .
Observers hoped that Dr. Malik will promote better understandings in coping Baluchistan issue and will streamline the mistrust between province and the federal government.
It may also be mentioned here that, the Baloch separatists had already rejected the elections in Baluchistan and the newly elected CM has survived several times in their assaults, latest of which took place on may 11th when Baloch was moving towards a Polling Station in Turbat .
Nawab Sanaullah Zehri and Mir Changez Marri were also candidates for the slot of CM, but due to current circumstances, they were dropped as the single largest wining party of Baluchistan PKAMP supported Dr. Malik as Chief Executive of the Province.
Early some Media reports also said that the PML-Nleadership wanted to nominate Changez Khan Marri as CM of Balochistan, however Pakhtunkhwa Milli Awami Party (PkMAP) and other nationalist parties were not eager to see Changez Khan Marri as the CM.
Zehri was not ready to go out of the race for the chief minister's slot but finally he agreed.
Writer is Bureau Chief for Baluchistan Chronicle in Islamabad.