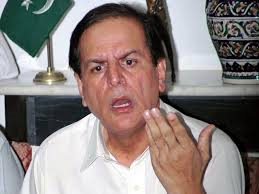 ISLAMABAD, Aug 31: Pakistan Tehreek-e-Insaf (PTI) President Javed Hashmi has stated that Imran Khan's decision to move forward to the PM House was against that of the party.
Addressing a press conference here Sunday, Hashmi disclosed that Imran Khan had assured that they would not move forward from Constitution Avenue.
Hashmi said Imran Khan changed his stance after Sheikh Rasheed and Saifullah Niazi delivered a message to him. The PTI president said that he was not informed of what prompted the decision to move forward despite asking Imran Khan. Hashim said he was told by Imran Khan that he could leave if he had difference.
Hashmi regretted that there was no democracy in the party. "I had advised Imran to wait till the result of negotiations", he said. "Shah Mehmood Qureshi had also supported my viewpoint."
He said: "No distance has been left between martial law and us".
According to Javed Hashmi, the Pakistan Awami Tehreek (PAT) would not proceed to the PM House until they received the go ahead from Imran Khan.
The PTI president called on the government to end the barbaric action and asked Imran Khan to return, stating that he would stand by him if he did so.!
The PTI President also said, if democracy is derailed Imran Khan will be responsible for it.
Imran Reacts
Addressing his supporters from his container, Imran Khan said he is disappointed at Javed Hashmi's statements and announced that from this day forward his path and Javed Hashmi's path are different.