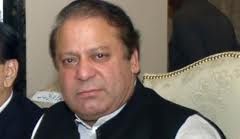 As Pakistanis head to the polls for general elections on May 11, something to watch among top candidates for prime minister is how they position themselves in relation to Pakistan's powerful military establishment. The military has essentially ruled the country for more than half of the country's 66 years. This election marks the first transfer of power from one government to another without any military interference. 
Nawaz Sharif is considered the front-runner to become Pakistan's next prime minister.
Mr. Sharif, a business magnate, jumped into politics as a protégé of the military dictator Gen. Zia-ul-Haq during the 1980s, after the Sharif family lost much of their business under the nationalization policy of the previous civilian government.
While he was Pakistan's prime minister from 1990 until 1993 he was popularly known for his economic liberalization policies. After taking office again in 1997 his government was upended in a coup in 1999 when Sharif tried to remove the army chief, Pervez Musharraf, from office.
He was tried on terrorism and corruption charges in a military court and given a life sentence. But Saudi Arabia, where his family did significant business, came to his rescue. And under an agreement with the Saudi government, Sharif was exiled from the country.
He returned to Pakistan in 2007 to participate in the last elections, this time as a heavy critic of the military that once brought him to power. His party, Pakistan Muslim League (PML-N), a center-right, pro-business party, came into power in Punjab Province under his leadership.
Sharif continues to run the family steel business, making his family one of the wealthiest in the country, and favored among business elites.
He's been long criticized for suspected covert support of Islamic extremist groups like Lashkar-e-Jhangvi, which has links with Al Qaeda and is headquartered in Punjab. Sharif's party denies alliance with extremists; however, while the Pakistani Taliban have pledged to attack the Awami National Party (ANP), the Pakistan People's Party (PPP), and the liberal Muttahida Quami Movement (MQM) parties, no extremist groups have threatened to disrupt campaigning by the PML-N or Sharif.
He promises to take Pakistan out of many challenging crisis, including bringing an end to crippling power shortages, improving law and order, and reviving the economy. No one is quite sure how many seats his party will win, but analysts say he may have to form a coalition. Still, unlike the PPP-led government which just left office, A Sharif government is likely to be more proactive in responding to issues, and thus more popular.