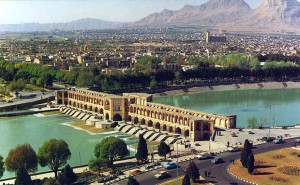 PESHAWAR, Nov 6: The governments of Khyber Pakhtunkhwa and Isfahan, a central Iranian province, have signed a Memorandum Of Understanding (MOU) to establish a joint chamber of commerce and promote cultural relations, according to an official handout.
As per MOU, the two sides will jointly implement a strategy to promote economic ties, strengthen industrial relationship, encourage investment, and improve services through mutual cooperation and sharing of knowledge, according to the handout.
The document was signed by Khyber Pakhtunkhwa Chief Minister Ameer Haider Khan Hoti and Governor of Isfahan Dr Zakir Isfahani at the latter's official residence at Isfahan on Friday night.
The KP chief minister is on an official visit to Isfahan. The other members of his delegation include Senior Minister Bashir Ahmad Bilour, Information Minister Mian Iftikhar Hussain and additional chief secretary Attaullah Khan. The visit is meant to strengthen mutual ties between the two provinces, explore economic and business opportunities, and enhance cultural and social relations between the peoples of the two sides.
An official handout said the MOU would help facilitate the public and private sectors of the two provinces by strengthening bilateral cooperation. KP would work to receive Iranian cooperation in the field of hydel and thermal power generation.
The two sides would also conduct training courses and workshops to raise workforce skill levels in the fields of textile, food production and wood manufacturing, carpet manufacturing, fruit processing, chemicals and petro-chemicals, steel rolling and production of PVC/HTP pipes used for supplying gas.
The MOU would seek to arrange trade exhibitions and industrial shows as part of their strategy to promote economic cooperation and create opportunities for private investment. Similarly, in the mineral sector, exchange of information and technical know-how gained through research would be shared by holding training courses.
The two sides agreed to facilitate machinery and technology exchange for research in the fields of granite, marble, and precious stones. They agreed to strengthen trade and business between the two provinces by encouraging private sectors.
In this respect, international exhibitions would be arranged and the practice of international tenders and auctions would be pursued.