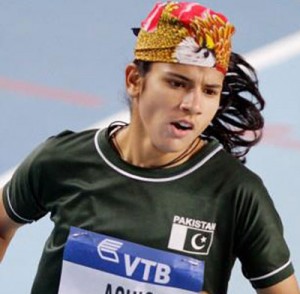 KARACHI: Pakistan's talented athlete Rabiq Ashiq who will be competing in the 800 metres competition at the London Olympics, scheduled for Aug 8, has received a major boost with her recent sponsorship contract.
Rabia was selected to participate in the Olympics through wildcard and is hoping to make an impact in the challenging event at the Games scheduled for next week.
Rabia said that although she will strive hard for the medals, this opportunity alone of competing in the world's top sports extravaganza is a dream come true.
"Girls should educate themselves and realise their dreams through hard work and persistence. Nothing is impossible," she said prior to her departure for London.
Hailing from a modest background, Rabia had to face discouragement from her immediate and extended family initially but her passion drove her to continue taking part in sports at school and college level.
Recognising her tenacity, Zong a leading cellular company has decided to sponsor the athlete for her participation in the world's foremost sports competition.
"Rabia is an epitome of courage and an excellent example for the world to see that with minimal resources there can still be success stories of women who are willing to dream. Even if the society is not ready to support, a person can change everyone's perception through his or her consistent efforts," said an official. (Agencies)