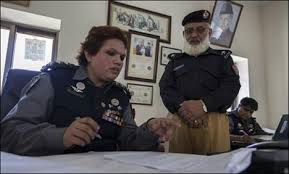 ABBOTTABAD, Oct 20: When Shazadi Gillani, the highest ranking female police officer in Pakistan's most conservative province, wanted to join the force she had to defy her father, forego marriage and pay for her own basic training.
During the next 19 years, Inspector Gillani and her faithful sidekick Rizwana Zafar, brought up as a boy after becoming her frustrated father's ninth daughter, have battled bandits, earthquakes and militants.
The Taliban are so pervasive in Gillani's northern Khyber Pakhunkhwa province that she wears a burqa, a head-to-toe robe with a small mesh window for the eyes, when she travels.
Zafar dons a fake moustache to escort her.
But the women's biggest challenge is helping new female police recruits.
Women make up just 560 of the province's 60,000-strong force.
Police chiefs hope to double that within a year, but tough working conditions make recruitment hard.
There have been small victories.
Germany funded female dormitories at three training colleges.
Women recruits no longer wait years for basic training.
This summer, the province opened women's complaint desks in 60 male-run police stations.
Many Pakistani women face horrifying violence and officials hope more abused women will report attacks. Tradition forbids them from speaking to male officers.
The province opened two women-only police stations in 1994.
But they have long been starved of resources and responsibility.
"We are fighting a war in the workplace," said Zafar, whose uniform sports a karate patch. "We are supporting our juniors. There was no one to support us."
From schoolgirls to cops
As a schoolgirl, Gillani wanted to join the army like her father. They were not recruiting, so she proposed the police instead. Her father and seven brothers were horrified.
"They said police disrespected women," she said, auburn hair peeping out from her cap. "I had a lot of opposition."
After a week of refusing to eat, and lobbying by her college lecturer mother, Gillani's father gave in. He had three conditions: Be brave. Marry your job. Bring a friend.
So Gillani recruited her school friend Zafar.
Zafar cut her hair short and dressed like a boy. She taught herself to ride motorbikes, use computers and fix engines. She is Gillani's bodyguard, assistant and friend.
"I don't cook. I don't have a dress. I'm not scared of anyone except God," Zafar said. "We protect each other, we guard each other. When one is sleeping, the other is awake."
When a colleague tried to force his way into their tent after an earthquake levelled their town, Zafar and Gillani fought him off together.
Women police were not respected when Gillani joined, but the military was.
Her army major father shoehorned them into courses and footed the bill.
Gillani's training cost $2,000.
The money was returned eight years later.
Not everyone had a powerful father.
Rozia Altaf joined 16 years ago and waited six years and submitted more than 50 applications to get her basic training.
Now head of the women-only station in the provincial capital of Peshawar, she says things have changed, a little.
"We were neglected," she said, waving a dismissive hand. "But now I make sure my junior officers get training and promotions on time."
The Peshawar women-only station gets about 50 complaints a year, far less than a male-run station.
The last crime reported at the Abbottabad women-only station was in 2005.
Station head Samina Zafar sits at a bare desk in an empty room lit by a single naked bulb.
"We are not given good facilities," she said. "I want this place to be like a man's police station."
Attackers rarely prosecuted
Women do prefer to confide in female officers, says professor Mangai Natarajan, who studied women police stations.
She says domestic violence accounted for two-thirds of cases reported to women's stations in India's Tamil Nadu state.
Police mediation reduced violence for half the complainants.
No Pakistani data exists.
The women's desks in Khyber Pakhtunkhwa receive a complaint every few days, mostly domestic violence.
The attacker is usually simply rebuked. Victims fear a formal case will bring further violence.
But some policemen still say no woman willing to join the police is worth having.
"Women who join the force don't care for their reputations or have nowhere else to go," said one senior officer.
Gillani and Zafar are infuriated by such talk.
"If people see women police doing their jobs well, they will change their minds," said Gillani, supervising the fingerprinting of a tearful accused kidnapper.
While she must wear a burqa to head home, she refuses to do so in the station.
"If we are doing the job of a man, why should we not show our faces?" she asked. "Change is a challenge for all of society, not just police."