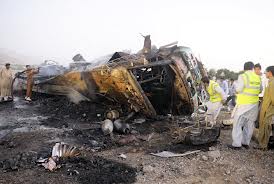 Karachi, Dec 10: In 2013, the people of Pakistan have remained at the mercy of state and non-state actors which resort to violence as a means to secure power, the Hong-Kong based Asian Human Rights Commission (AHRC) said on Monday.
The detailed report has been released to mark Human rights Day that falls on December 10 (today). Rights violations are widespread due to the failures of, and lack of reform in, the country's institutional framework, in particular key institutions of the rule of law: the police, prosecution and judiciary, according to the report.
Throughout the year 2013, the AHRC has documented how too many lives, and the dignity of those living, have been snatched by a callous state and inhuman cruelty in Pakistan."This year, absence of a functioning criminal justice framework has allowed, or even caused, torture in custody and extrajudicial executions to increase rapidly.
"During the year, hundreds of incidents of sectarian violence, targeted killings, terrorist attacks, and suicide bombings were witnessed, as well as killings conducted," the report said.But that is not all. In 2013, the nation faced the promulgation of two draconian ordinances that have restricted freedoms further. It also witnessed the absence of the rule of law, killings of persons from Muslim minority sects, honour killings, trafficking of women and children, torture in custody, disappearance after arrest, and extrajudicial executions, suicide attacks on religious sites, persecution of the religious minorities, forced marriages, assassination of journalists, enslavement of children, poverty levels rising to 34 percent and power blackouts that brought industrial and commercial activities to a standstill, the report said.
The year 2013 also witnessed, for the first time in Pakistan's history, peaceful transfer of power from one civil government to another following a general election. Every political party, including that which won the May 11 election with a two-thirds majority, complained about gross vote rigging.
"The new government, on assuming power, immediately began acting on its distaste for human rights. It merged the Ministry of Human Rights with the Ministry of Law and Justice, denying the people opportunity for redress for human rights abuses. The government has turned a blind eye to the arrogance of the police and armed forces in its refusal to comply with the orders of the courts," the report said.
The government – in attempt to limit freedom of expression, freedom of movement, constitutional protection from arbitrary arrest, security of individuals, right to property, and civil liberty – promulgated two ordinances (Pakistan Protection Ordinance and an ordinance amending the Anti-Terrorism Act 1997). With these ordinances it has provided law enforcement and security agencies unlimited powers to search houses without warrant, shoot suspects on sight, confiscate property, tap telephones, and hack computers, and has established a parallel judiciary, creating special courts and special prosecution. These ordinances were promulgated to bypass parliament and open debate.
"Balochistan remains in a grave situation in 2013. Thousands of people are missing after arrest. Human rights abuse is the norm.," the report said.
"In 2013, four hundred and fifty (450) persons disappeared after their arrest by the Frontier Corps (FC) and other forces in Balochistan. In Sindh province 35 persons disappeared this year; the number of disappeared for KPK province is 110 persons. In Pakistan-held Kashmir, nationalists struggling for independence of both India-held and Pakistan-held Kashmir disappeared constantly – 52 such persons disappeared after their arrest."
"As many as 180 bullet-riddled bodies of Baloch missing persons have been found this year. In Sindh, during joint operations of Pakistan Rangers and Police, 53 persons were extra-judicially killed in vast numbers of encounters. In Karachi alone, 34 persons were killed in extra-judicial executions," the report said.
"However, intelligence agencies brazenly ignore Supreme Court's orders to produce the missing victims. Two judicial commissions established to probe cases of disappearances have been unable to get explanations from the intelligence agencies, and their recommendations have been ignored."