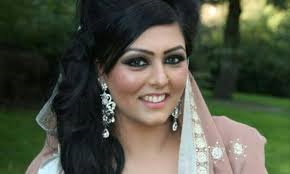 When Samia Shahid died in Pakistan in July, her family said it was the result of a heart attack. Authorities now believe it was an honor killing carried out by her ex-husband, father and uncle, and that an investigator helped some of her family members flee the country.
According to the Guardian, the 28-year-old British woman returned to Pandori, a village in Punjab, under the impression that her father was sick. While she was there, she was strangled to death, a detail the station house officer of the local police station, Aqeel Abbas, initially suppressed.
"He helped people escape the country who were wanted in the case of Samia," Abubakar Khuda Bakhsh, who's been appointed to lead a special investigation into the circumstances of Shahid's death, told the Guardian. "Despite clear instructions, he let them go."
Bakhsh was referring to Shahid's mother and sister, whom police are trying to bring back to Pakistan. Abbas, who is also suspected of having accepted a bribe in exchange for his cooperation, is currently in custody.
Shahid's second husband, Mukhtar Syed Kazam, believes her death to have been an honor killing, her family's retribution for a marriage they opposed. According to the Guardian, she was "pressured into marrying" Chaudhry Shakeel and outraged her family when she divorced him, then marrying Kazam.
According to the BBC, Shakeel told authorities he'd strangled her with a scarf and is being held for murder, a crime with which he was reportedly assisted by Shahid's father, Muhammad Shahid. He's being held as an accessory, while her uncle, Haq Nawaz, is allegedly in custody for having tried to falsify Shahid's medical records to support the claim she'd died from a heart attack.
On top of murder, Shakeel has also been charged with raping his ex-wife, the India Times reported. Unfortunately, the killing is far from an isolated incident — the BBC reported that, in 2014, almost 1,100 women in Pakistan died at the hands of relatives who believed the women had dishonored their houses. New legislation aims to crack down on honor killings, and while it won't be able to prevent them entirely, it's a step in the right direction.
"Enough is enough," Anis Haroon, a member of Pakistan's National Commission on Human Rights, told CNN. "We don't want any more killings in the name of honor. It's a total falsehood — there is no honor in killing."