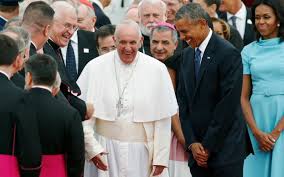 Pope Francis on Thursday warned members of Congress and the American public not to be consumed by their opposition to religious extremism.
"Our world is increasingly a place of violent conflict, hatred and brutal atrocities, committed even in the name of God and of religion," Francis said before a rapt joint meeting of Congress.
A delicate balance is required to combat violence perpetrated in the name of a religion, an ideology or an economic system, while also safeguarding religious freedom, intellectual freedom and individual freedoms," he said. "But there is another temptation which we must especially guard against: the simplistic reductionism which sees only good or evil; or, if you will, the righteous and sinners."
"We know that in the attempt to be freed of the enemy without, we can be tempted to feed the enemy within," Francis said. "To imitate the hatred and violence of tyrants and murderers is the best way to take their place."
Though Francis never mentioned Islam during his historic address — the first ever by a pontiff before a joint meeting of Congress — the comments appear to refer to ongoing global struggles against extremist groups such as the Islamic State in Iraq and Syria (ISIS). Some critics have worried that efforts to crack down on radicalism around the world end up limiting people's rights and subjecting them to constant surveillance.
Francis's speech on Thursday captured the attention of all of Washington.
In addition to the comments on extremism, the address largely focused on immigration, climate change and efforts to protect the poor.