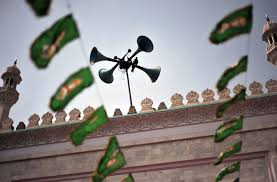 ISLAMABAD, Oct 24: Prayer leaders (Khateebs) of 73 worship places in the city were booked for violating the ban on the use of loudspeaker during the Friday prayers.
A police officer said the use of amplifier for any speech except Azan was banned in the capital city. After a bloody clash between two religious groups in Rawalpindi on Ashura last year, the capital police have decided to implement the ban strictly.
He said the clash outside a worship place located on the Ashura route in Raja Bazaar last year was caused by the misuse of the loudspeaker.
"Last Friday, police officials met the Khateebs of all mosques and imambargahs in the capital city and asked them not to violate the ban," he said. The Khateebs were further directed that their voice should remain confined to the premises of the worship places.
"In this regard, undertakings were also taken from them with the warning that legal action would be taken against them if the ban was violated."
---
Violations were detected by police officials during Friday prayers
---
The officer added: "Today, a vigilance was mounted around all the worship places – 584 msoques and 30 imambargahs – in the city with the deployment of policemen in plain clothes to listen to the sermons of the Khateebs.
During the surveillance, the police officials found violations of the ban in the 73 worship places.
He said the khateebs of worship places belonging to the Deoband, Ahle Hadis, Barelvi and Shia sects found involved in the violation of the ban were booked under the amplifier act.
Nine cases were registered by the Sabzi Mandi police, six by Industrial Area, five each by the Aabpara, Bhara Kahu, Golra, Loi Bher, Nilor, Shahzad Town and Tarnol police. Four cases each were lodged with the Koral and Banigala police, two with the Secretariat and one case with the Ramna police.
There was no complaint about the violation of the ban in any worship place located in the jurisdiction of the Kohsar police.
However, the officer said the police deliberately delayed the arrest of the Khateebs. In the first step, the cases were registered against the violators for their refusal to follow the law.
There are over 600 worship places in the city and majority of them followed the law and did not commit any violation.
The police officer said arrests would be made if the Khateebs again violated the ban. Besides, their amplifier system would also be confiscated.
Senior Superintendent of Police (SSP) Asmatullah Junejo directed all the subdivisional police officers and the SHOs to ensure the implementation of the ban to maintain sectarian harmony and peace in the city.
Published in Dawn, October 25th , 2014