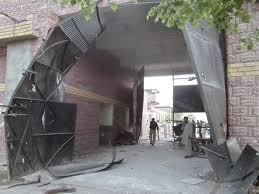 PESHAWAR, April 16: Authorities on Monday removed four senior officials over a jail break in the restive northwest and launched a probe into whether it had any link to multiple attacks in Afghanistan.
The provincial government said a "total failure" of intelligence was to blame for the break-out, in which dozens of inmates including Taliban militants and death row prisoners fled a prison after armed militants attacked before dawn on Sunday.
More than 150 heavily-armed militants stormed the jail outside the town of Bannu, near the lawless tribal region where Taliban and al Qaeda linked militants have carved out their stronghold.
"It was a total failure of intelligence agencies," Mian Iftikhar Hussain, information minister of the Khyber Pakhtunkhwa province, told a news conference.
The militants came in dozens of vehicles, continued to operate for more than two hours and went back undetected, he said.
"We have removed the deputy superintendent of Bannu Jail, the city commissioner and two other senior police officers," he said, adding that a five-member committee had been set up to investigate the matter.
The provincial government has also taken note that the jail break in Pakistan coincided with multiple attacks by Taliban insurgents across the border in Afghanistan on Sunday.
Some 36 insurgents were killed nationwide as Afghan forces regained control of Kabul on Monday 18-hour after the Taliban assault, which left 11 members of the security forces and four civilians dead.
Hussain said "the committee will try to find out whether the jail break in Pakistan, claimed by local Taliban, had any link to coordinated attacks in Afghanistan." Senior Bannu police official Iftikhar Khan earlier told AFP that a total of 384 inmates had escaped the jail, of whom 53 returned voluntarily while 11 others were arrested.
Most of those who escaped were militants, including 34 prisoners on death row.
Ehsanullah Ehsan, spokesman for the Tehrik-i-Taliban Pakistan (TTP) militant group, claimed responsibility for the attack which he said was launched to free some of their key members.
The attack began around 1:00 am (2000 GMT Saturday) and continued for two hours, with militants in cars and pick-up trucks shooting and throwing grenades to force their way into the prison, which held 944 prisoners.
A former member of the air force sentenced to death for an attack on former president Pervez Musharraf was among the escaped militants, according to officials.
Adnan Rasheed was convicted after a bomb planted under a bridge in Rawalpindi near Islamabad in December 2003 exploded moments after Musharraf's motorcade passed. His appeal is pending before the Supreme Court.