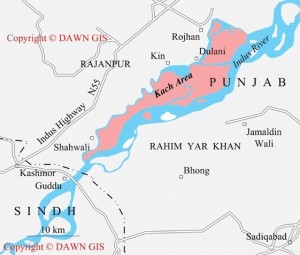 MULTAN, April 22: The Punjab Home Department has constituted a joint investigation team to probe Chotu Gang into abduction and killing of police personnel, which invited military intervention in the operation across the riverine area of River Indus
The JIT is constituted under Section 19 of the Anti Terrorism Act 1997 to finalise the investigation in the case (FIR No 47/16) registered under sections 302/ 324/ 395/ 353/ 186/ 148/ 149 of PPC, 3/4 ESA and 7-ATA registered with Rajanpur's Bangla Achha Police Station.
The Home Department circular says the JIT would comprise five officials including a convener and four members. DG Khan DPO Capt Atta Muhammad would head the JIT with Bahawalpur Counter Terrorism Department DSP Aftabullah, one representative each from ISI and Military Intelligence, and Bangla Achha SHO Pervaiz Akhtar.
The Home Department has requested Punjab CTD Additional IG and sector commanders of ISI and MI for deputing special representatives for the JIT.
Security sources confided to The News that revelations were expected in coming days regarding politicians' involvement in patronising and protecting the gang. They predicted that the JIT would ascertain the Indian arms smuggling chain, which operates from Cholistan across Pak-India border.
The security sources believed that Chhotu tried to mislead by claiming that he had purchased arms from Afghanistan. The Indian weapon smuggling was easier and safer from Cholistan then Afghanistan, as the arms smugglers were infiltrating from Jaisalmer into Cholistan.
According to the sources, the arms' supply chain travels from Cholistan to the River Indus' riverine areas and then further proceeding to Sindh and Balochistan. The Baloch separatists are receiving Indian arms from this route.
The sources said the JIT could investigate linkages between the Chhotu Gang and political elite to establish political backing the gangsters had been enjoying. The JIT might also establish connections between the Chhotu Gang and sectarian outfits particularly Lashkar-e-Jhangvi.
The Chhotu Gang had abducted eight policemen in 2013 and demanded release of four high-profile LeJ operatives in exchange. The Basti Malok police of Multan were investigating the LeJ operatives involved in bomb blasts in Balochistan and other terrorism incidents across the country.
The JIT may also review the political pressure into the release of LeJ operatives in exchange of the kidnapped policemen.