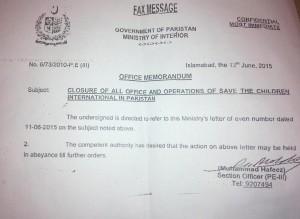 ISLAMABAD, June 14: Days after authorities in the federal capital sealed the offices of international non-governmental organisation Save the Children, the interior ministry has allowed the INGO to resume operations in Pakistan.
Save the Children has previously been accused of involvement with the Central Intelligence Agency and Dr Shakeel Afridi in tracking down the whereabouts of Osama bin Laden in Abbottabad.
Suspending its first order in which it sealed offices and operations of the INGO in Islamabad earlier this week, the Ministry of Interior let the international NGO to continue its work in the country.
"The undersigned is directed to refer to this ministry's letter of even number dated 11th June 2015 on the subject noted about. The competent authority has desired that the action on above letter may be held in abeyance till further order," reads the letter issued by Ministry of Interior. A copy the letter issued by a senior officer of the ministry is also available with The Express Tribune.
"The organisation [Save the Children] can continue its work in Pakistan as it has been doing for decades until any further orders," a senior official of interior Ministry said.
"We are in process of regulating all INGOs and NGOs and all international organisations have been directed to follow the new laws or close their offices," he added.
Interior Minister Chaudhry Nisar has said the government is working on streamlining the operations of all non-profit organisations working in the country to regulate their activities.
Speaking to reporters outside the National Assembly in Islamabad on Friday, Nisar said a committee constituted by Prime Minister Nawaz Sharif was working on drafting new laws to set a mechanism for operations of all such organisations. PM's Adviser on Foreign Affairs Tariq Fatemi heads the committee.
He added that no non-governmental organisation (NGO) working against the country's national interest would be allowed to continue working in Pakistan. "We just want to regulate the system. We do not want to shut down NGOs, which follow our laws."