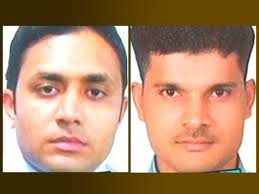 Two key suspects in the 2010 murder of a Pakistani politician in London have been arrested, it has emerged.
Dr Imran Farooq was stabbed to death outside his home in Edgware almost five years ago in what detective believe may have been a politically motivated killing.
Scotland Yard named Moshin Ali Syed, 29, and Muhammad Kashif Khan Kamran, 34, as suspects after records showed they left the UK on the night of the murder.
Moshin Ali was detained on Thursday as he tried to enter Pakistan from Afghanistan, local frontier police said.
He was held with another man, Khalid Shamim, but sources revealed that Kashif Khan was also already in the custody of the Pakistan security services.
The men are due to appear in court and are likely to face moves to extradite them to the UK.
Dr Farooq was a founding member of the Muttahida Qaumi Movement (MQM), the biggest political force in Karachi, and was killed close to its London headquarters.
Detectives have been investigating whether the murder was linked to his plans to break away from the MQM leadership and launch a new, independent political career.
Khalid Wasey, a spokesman for the Frontier Constabulary in Pakistan, said the two men arrested on Thursday are expected to be handed over to the Federal Investigation Agency (FIA).
He said both belonged to the "the political party of the Karachi".
An Interior Ministry source said: "It is believed that Moshin |Ali was involved in the high profile murder of the Dr. Imran Farooq in the London.
"An important breakthrough is expected in the Imran Farooq murder case."
MQM law maker Farooq Sattar denied any MQM link with the two arrested men, adding: "Islamabad must stop targeting a major political party of Karachi."