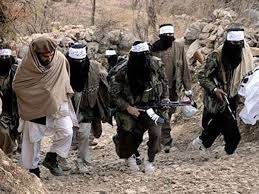 Pakistan's military began a full-scale operation in the Taliban stronghold of North Waziristan, prompting insurgents to warn foreign investors, airlines and multinational companies to leave the country.
"We're in a state of war," Shahidullah Shahid, a spokesman for the Tehrik-e-Taliban Pakistan, or TTP, said in a statement yesterday. "Foreign investors, airlines, and multinational companies should cut off business with Pakistan immediately and leave the country or else they will be responsible for their damage themselves."
The army said June 15 it would target local and foreign terrorists in North Waziristan, a tribal region near the Afghan border the U.S. has called the "epicenter" of terrorism. The operation, long sought by the U.S., comes a week after militants attacked the country's biggest international airport.
As Islamic militants capture cities in Iraq and the U.S. draws up plans to withdraw from Afghanistan, public opinion in Pakistan is shifting in favor of stronger action against fighters who were previously seen locally as more of a threat to America's interests. The Taliban wants to impose its version of Islamic Shariah law in Pakistan, which includes a ban on music and stricter rules for women.
Pakistan's Future
"At stake is the future of Pakistan," Mahmud Ali Durrani, a former national security chief and ex-ambassador to the U.S., said by phone. "Do we want a Talibanized Pakistan or do we want to live according to the constitution, democracy? If we want to live according to our constitution and democracy then we have to fight for it, because they are the kind of people who don't believe in these things."
Prime Minister Nawaz Sharif's party won an election last year after pledging peace talks with the TTP, the group at the forefront of an insurgency that has killed 50,000 people since 2001. Negotiations that began in March collapsed over the TTP's demands for prisoner releases even before progressing on issues such as Shariah law.
Meet al-Qaeda's Heirs Fighting to Reshape the Arab World
"I am confident this operation will be a harbinger of peace and stability," Sharif said in a speech in Parliament yesterday. "The decision on a decisive operation was taken with full consensus."
After Taliban and Uzbek militants attacked Karachi's international airport, killing 28 security officials and workers, U.S. drone strikes resumed in North Waziristan following a six-month pause.
Terrorist Hideouts
Pakistani jets yesterday destroyed six hideouts and killed 27 militants in the area, taking the toll to 167 in two days of air strikes, the military said in a statement. Another 10 insurgents were shot dead in a separate battle, it said. Six soldiers were killed and three were injured when an explosion hit the area, the military said.
Troops have cordoned off all militant strongholds, including the two main towns of Mir Ali and Miranshah, and have been deployed along the border with Afghanistan to prevent combatants from fleeing the country, the military said. Pakistan has also sought help of the Afghan security forces to seal the border, according to the statement.
North Waziristan residents such as Nur Rehman have fled over the past month in anticipation of a military offensive. The threat made life unbearable, and about a quarter of people in his village of Tappi have already left, he said on June 12 from the outskirts of Islamabad, Pakistan's capital, where he was staying with his wife and three children.
"In the sky you have drones and on the ground there's no safety," Rehman said. "You don't know when you'll become a target."
Air Strike
More than 61,000 people have fled North Waziristan through the town of Bannu since a military air strike that killed more than 60 militants on May 21, according to the local government in Bannu. Another 6,500 people from the area, including 1,500 children, fled to Afghanistan, Mobarez Mohammad Zadran, a spokesman for the border province of Khost, said by phone.
North Waziristan is an area roughly the size of Connecticut that sits near the Afghan border in a semi-autonomous tribal region. Michael Mullen, the U.S.'s former top military official, in 2010 called it the "epicenter of terrorism" and "where al-Qaeda lives."
No mobile phone coverage is available, and residents make a living through farming or trading goods with Afghanistan. About half of the world's polio cases this year have been reported in North Waziristan as militants target vaccination drives, part of the fallout from the U.S. spying operation that led to Osama bin Laden's death in 2011.
Own Laws
The roughly 700,000 people living in North Waziristan are exempted from paying taxes and are governed by their own set of criminal laws. While traditions entrust village elders to solve disputes, feuds are often settled with guns.
After the U.S. invaded Afghanistan in 2001, North Waziristan became a safe haven for foreign militants like Uzbeks and Turks who fought alongside the fallen Taliban regime. Local tribes welcomed them in line with a culture of hospitality, according to Khalid Aziz, chairman of the Regional Institute of Policy Research and Training in Peshawar.
In 2007, militant groups in the area united to form the TTP, which went on an offensive toward Islamabad. After Pakistan's army flushed them out of the Swat valley and most tribal regions, it resisted U.S. pressure to follow through with a push into North Waziristan, which was also home to the Haqqani network and Gul Bahadur, who were fighting American troops in Afghanistan.
Unable to convince Pakistan to take action, the Obama administration intensified its campaign of drone attacks that President George W. Bush started in 2004. More than 3,200 people died in drone strikes from June 2004 to December 2013, according to California-based Pitch Interactive, Inc., which cited data from The Bureau of Investigative Journalism.
About 70 percent of all drone strikes have been in the North Waziristan region, according to Washington-based The New America Foundation. Only 58 known militant leaders have been killed in drone strikes in Pakistan, representing 2 percent of the total deaths, it said.