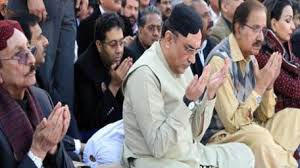 KARACHI, Dec 26 — Seven years have passed since Benazir Bhutto, Pakistan's former prime minister, was assassinated in Rawalpindi, on Dec. 27, 2007. Her legacy and significance in world history continue to hold a special place in the hearts of the millions of Pakistanis who mourn her death as much as they mourn the death of the dream of what Pakistan might have been had she lived to rule the country just one more time.
As with that of many political icons, Ms. Bhutto's sudden death left a void in both leadership and inspiration; no politician in Pakistan has been able to fill it. She also left behind a checkered past, with allegations of corruption that still linger, unproved in court for lack of evidence. The two governments she led were dismissed on corruption charges, and she was accused of amassing a large personal fortune for her own family while doing far too little to alleviate the burdens of Pakistan's poor.
In her own life, she carved out a brilliant academic career at Harvard and Oxford, and political achievements of undeniable import as the daughter of an assassinated prime minister battling to restore democracy in Pakistan; later, she became the first woman elected to lead a Muslim country. She inhabited a marriage that puzzled people as much as it fascinated them — to a controversial man who ruled Pakistan in her name for years after her death. She raised a son and two daughters, who now strive, with mixed results, to serve the Pakistani people she claimed to have lived for.
Yet Ms. Bhutto left behind more than success or scandal. In her wake are the millions of Pakistani girls and women who look at her life, her determination, her perseverance in the face of all odds. They appropriate even the smallest part of these elements of her life and add it to the blueprint they envision for their own. And they thrill to the idea, still radical in Pakistan 40 years after Ms. Bhutto began her political career, that gender doesn't have to stop them from achieving their dreams.
One of the more literal examples of Ms. Bhutto's legacy that helps Pakistani women is the Benazir Income Support Program, which distributes cash, without conditions, to low-income families throughout Pakistan. These poorest of the poor, 5.5 million families in 2013, receive 1,200 Pakistani rupees — about $12 — twice monthly, most of which is spent on food. Ms. Bhutto worked on the vision, concept and design of the program with a renowned Pakistani economist, Dr. Kaiser Bengali. After her death, the initiative was enacted by Prime Minister Yousaf Raza Gilani, but named after Ms. Bhutto by her widower, President Asif Ali Zardari, as a tribute to her.
The program isn't without flaws; critics have said that it is meant to influence voters at election time, that political influence skews which families are eligible to be recipients, and the fact that most of the assistance is nonconditional renders it ineffective (a subprogram gives families more cash if they enroll their children in primary school).
But there is also a revolutionary side to the scheme: The cash is transferred into the bank account of a woman in the family, not a man. Placing spending power directly into the hands of poor Pakistani women empowers them on many levels: They become decision makers within the family, and their respect and value increase in the community. To obtain the cash, they are required to get national identity cards and bank accounts; as a result, they achieve a level of citizenship and fiscal identity denied to previous generations, when the births and deaths of women were rarely registered in official records.
While mothers are being helped by the program, their daughters are going to school in even greater numbers than before, thanks to the many awareness campaigns and education drives underway in Pakistan. Many of these girls regard Benazir Bhutto as an inspiration for their own educational paths. Malala Yousafzai, Pakistan's most famous schoolgirl, cites Ms. Bhutto as her personal idol, and wore Ms. Bhutto's white shawl when she addressed the United Nations in 2013.
Young women attend classes at the Shaheed Zulfikar Ali Bhutto Institute of Science and Technology, which Ms. Bhutto established in her father's name, in Karachi, Islamabad, Hyderabad and Larkana. There, they study law, media, computer engineering and more. Ms. Bhutto's university-educated daughters, Asifa and Bakhtawar, today publicly encourage Pakistani girls to go to school so that they, too, may one day serve the nation as educated, empowered women.
The daughter of a privileged landowning family, Ms. Bhutto nevertheless fought against the conservative social mores of her environment, in which rich girls could go to school but grown women were expected to run a house and raise a family, no matter how educated they were. She herself returned to Pakistan after her studies, and entered politics, heading the Pakistan Peoples Party in its now-celebrated struggle in the 1980s against the dictator Gen. Mohammad Zia ul-Haq.
She endured house arrest and exile throughout her political career, overcame the powerful mullahs' objections to a woman's ruling an Islamic nation, and won admirers all over the world for her political skills and compassion. Even after her death, she serves as the ultimate mentor to Pakistani girls and women who want to set the course of their lives for themselves, instead of having it dictated to them.
What might have happened in Pakistan had Ms. Bhutto been elected for a third term will remain an unanswerable question. Her personal and political legacy is full of contradictions and complexities that will continue to be examined by earnest historians, mined by rapacious politicians, venerated by her supporters and picked apart by her detractors.
Yet she emboldened the heart of every girl and woman in Pakistan who was ever told that being a woman precluded her from a lifetime of accomplishment, service and worth. This was her greatest legacy.
Bina Shah is the author of several books of fiction, including, most recently, "A Season for Martyrs."