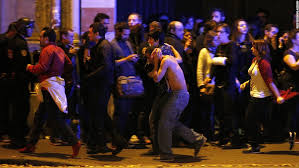 In November 2008, a new form of terrorism filled our television screens as a 10-man cell dispatched by Pakistan-based terror group Lashkar-e-Taiba wreaked murder and mayhem across Mumbai. Choosing prominent targets filled with foreigners and Indians, the terrorists opened fire on anyone they came across, butchering 266 before dying fighting the authorities.
In so doing, they took over global headlines for days as well as bringing one of Asia's super-cities to a standstill. Terrorist groups around the world celebrated this horror and began to discuss how they might try to emulate this success. Seven years later in Paris, the playbook has been copied.
This has been the longstanding fear of Western security agencies. Aware of the perceived success of the Mumbai attack, police and intelligence services across Europe have been ramping up their preparedness and training. Most recently, in June, the UK's emergency and intelligence agencies did a dry run for a marauding shooter attack in London. And there have been scares. In 2010, a network of European cells that seemed to indicate al-Qaeda was attempting a Mumbai-style assault, with training camps in Pakistan's badlands, was apparently disrupted.
Then earlier this year, Paris was racked by the Charlie Hebdo murders. But whereas those attacks, initially at least, were selective in their targets, Friday's were utterly indiscriminate. The bombers at the stadium must have known the French President was in the environs, though they blew themselves up outside, killing whoever happened to be nearby. The other cell liberally targeted Parisians on a Friday night out. This is a markedly different form of horror and one that requires deep indoctrination, preparation and training. It is also a step up in terms of atrocity from what we had seen before in Europe. Mumbai-style terrorism has reached European shores.
At least one of the attackers has been uncovered as having some French background. While unsurprising given the threat picture that we have seen, this is particularly disturbing within the context of the sort of attack they undertook. To brutally shoot and execute fellow nationals pleading for their lives is something which would have required intense commitment. This training may have occurred in Syria, but in many ways this no longer matters. Islamic State (Isis) has shown an interest in stirring chaos and misery around the world with little apparent concern for its strategic impact.
Unlike the Madrid bombings, which had the effect of prying apart the coalition in Iraq, the attacks that Isis has inspired, instigated or directed, have been aimed at killing as many as possible in "enemy" countries and stirring tensions in societies. France in particular has been at the epicentre of this threat. In May 2014, Frenchman Mehdi Nemmouche opened fire at a Jewish Museum in Brussels killing three. He was later reported to have fought alongside Isis. In August this year, another young man with links to France, Ayoub el Khazzani, was barely prevented from shooting at passengers on a high-speed train from Amsterdam to Paris.
His background remains unclear, but he was linked to a network in Turkey that was linked to Isis and connected to Sid Ahmed Ghlam, a 24-year-old Algerian French resident who was reportedly plotting to attack churches in Paris. He was detained after he called an ambulance to his home having shot himself accidentally in the leg. He was already of concern to French security services.
And none of this is to talk about the numerous plots that French authorities have faced where individuals have launched attacks in advance of jihadist ideologies with no clear evidence of any sort of network. Around Christmas last year there was a spate of random attacks using knives or cars, and in June, Yassin Salhi decapitated his boss and tried to drive a car bomb into a chemical factory in Lyon. He strung up his boss's head on a fence, took pictures of it with an Islamist flag and sent them to a fighter he knew in Syria.
This, sadly, is the nature of the current threat. And while obtaining the high-powered rifles required to cause such mass slaughter is much harder in the UK, it could strike here. Each wave of terrorism has to cause greater mayhem to have the same impact over time, and consequently for Isis to distinguish itself from al-Qaeda, it must create greater impact and misery.
Timeline of Paris attacks
While the UK can draw comfort from the fact weapons are harder to get here, British people abroad have fallen foul of these plots. The massacre in Sousse particularly affected British nationals, and at least one Briton was caught up in Friday's Paris attacks. Terrorism has to continually evolve and cause greater brutality to maintain impact and attract attention. And while France is currently the epicentre, the ideology and groups are ones that are keen to equally target the UK.
Raffaello Pantucci is director of  international security studies at the Royal United Services Institute