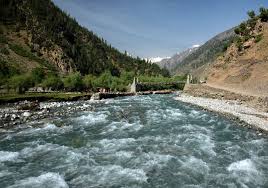 RAWALPINDI, Sept 1: Director-General (DG) Inter-Services Public Relations (ISPR) Asim Bajwa on Thursday gave an exhaustive rundown of progress made during Operation Zarb-i-Azb.
Zarb-i-Azb commenced on June 15, 2014, after an attack on Karachi's Jinnah International Airport. The operation which has gone on for over two years is now in its final phase.
"In 2014, the security environment when Operation Zarb-i-Azb started was such that the country faced various instances of terrorism," the DG ISPR said. "There were 311 IED blasts, 74 attacks, and 26 suicide blasts in 2014."
"The salient operational guidelines for Zarb-i-Azb were that it would be an indiscriminate operation, it would avoid collateral damage and it would be mindful of human rights," he said.
________________________________________
Summary of progress made during Operation Zarb-i-Azb
War against terror has cost Pakistan $107bn
North Waziristan, Shawal, Khyber Agency cleared by Army
900 terrorists killed during Khyber I and Khyber II
66pc locals have returned to tribal areas
Daesh designs in Pakistan 'foiled', 309 arrested
Over 21,000 IBOs carried out across Pakistan, nearly people 1,400 arrested
536 soldiers killed, 2,272 injured during IBOs
3,500 terrorists killed in IBOs
Afghan govt, Nato forces did not take adequate action against terrorists
Poor deployment of armed forces along Afghan side of the border
Gates to be built at all crossing points along Pak-Afghan border
________________________________________
'Afghan authorities did not take action against terrorists'
The DG ISPR displayed a map showing what he said was the concentration of terrorists in North Waziristan.
"No one could think of going to North Waziristan. It was the epicentre [of terrorism]. It was home to the largest communications infrastructure," he said. The origin of most instances of terrorism was North Waziristan, he said.
"After the operation, when we cleared the valley, reaching Dattakhel and were moving towards the border, some terrorists came out from there via Afghanistan and reached the fringes of Khyber Agency."
"Before we started the operation, Pakistan had informed all stakeholders ─ political, diplomatic and military ─ of the operation. The Afghan president, political govt, military leadership, Resolute Support Mission in Afghanistan were all informed of the operation and requested that if terrorists cross the border, they would have to catch them.
"They are your people, you will have to take action against them. But that didn't happen," Bajwa said.
'Killed 900 terrorists during Khyber ops'
"When the terrorists went towards Khyber Agency, we relocated some forces from the North Waziristan operation [to Khyber] and conducted operations Khyber I and Khyber II."
"We recovered weapons, ammunition, IEDs, explosives, communications equipment, hate literature and discovered tunnels," he said.
"There was enough explosive material there to carry out five IED blasts every day for 21 years. They could have caused 134,000 casualties with the amount of material we recovered."
"North Waziristan has very challenging terrain but despite that, our armed forces went there and cleared all their hideouts, caves and tunnels. But Khyber was even more challenging. It has snowy mountains and was home to hideouts from the Afghan war and had a very high density of IEDs."
The Army killed 900 terrorists during the Khyber operation, Bajwa said, and dismantled the network of terrorists that was threatening areas in the immediate surroundings, such as Peshawar.
'Shawal is like Switzerland now'
"We started operations in Shawal, where all the terrorists from North Waziristan went. It was their last stronghold and they had nowhere to go after that. The operation went well and we cleared every village, every house, every school and every mosque in Shawal."
"Shawal is like Switzerland now," Bajwa claimed. "The residents are slowly returning, but they want the Army to stay on and provide stability and revive the economy. Pine nuts are grown in great quantities there. Terrorists were selling them to fund themselves, but now the locals will benefit."
'Daesh in Pakistan planned attacks on Islamabad's diplomatic enclave'
The DG ISPR said that Daesh ─ another name for the militant Islamic State group ─ would not be allowed to have a presence in Pakistan.
"We created a comprehensive intelligence picture and saw that Daesh was trying to come into Pakistan. They organised themselves into two groups, the Kutaiba Haris (planning wing) and Kutaiba Mubashir (militant wing) and were trying to get local criminal and terrorist groups to join them," Bajwa said.
"Terrorists were frustrated at the time with all the Intelligence-based Operations (IBOs) going on and tried to change hats. The core group had 20-25 people," he said. These people were responsible for the attacks on the Faisalabad Dunya office, Lahore Din News office, Express News Sargodha office, and ARY News Islamabad office, he said.
About 309 people who were part of the organisation were arrested, including Afghans and people of Middle Eastern origin. About 157 small freelance groups were also arrested, he said.
Even people who did wall-chalking and graffiti for Daesh in Pakistan for Rs1,000 were also arrested, Bajwa said.
The group had planned to attacks in the capital's diplomatic enclave, particularly on the Ministry of Foreign Affairs and on foreign embassies, consulates and their employees, Bajwa said. They had also planned to target Islamabad airport and prominent public figures.
Border management: armed deployment low on Afghan side of border
There are 18 major crossing points between Pakistan and Afghanistan along the 2,600-kilometre-long shared border, Bajwa said. "We wanted to seal those areas so that terrorists from this side of the border don't go there and vice versa," he said."
"Lots of terrorists who crossed into neighbouring districts in eastern Afghanistan have built concentration camps."
"After clearing Fata… We began emphasising border management and the Torkham Gate was part of that. There will be proper gates made at all crossing points in addition to immigration staff posts," the DG ISPR said. He also said hundreds of small posts will be set up where FC forces will be deployed.
"Additional FC wings will be raised, but until that happens, Army troops will provide reinforcement in many areas."
"Other related agencies, including Nadra, will have staff posts and crossing will only be possible using valid documents on both sides of the border," he said.
"We have posts along the border and have our own forces reinforcing the Frontier Corps, but the same kind of deployment doesn't exist on the Afghan side of the border. Because of that void, there is a lot of presence and movement of terrorists there."
"There will be a lot of patrolling to ensure no one can cross the border illegally. It will take time, but we are moving ahead steadily," he said.
'Over 21,000 IBOs carried out across Pakistan'
Intelligence-based operations (IBOs), special IBOs and combing operations have been carried out across the country, Bajwa said. The IBOs targeted terrorists, their facilitators, sleeper cells, financiers and abettors.
Around 2,578 were carried out in Balochistan, 9,308 in Punjab, 5,878 in Sindh and 3,263 in Khyber Pakhtunkhwa.
Special IBOs commenced the night the suicide blast at Lahore's Gulshan-i-Iqbal park earlier this year, Bajwa said. So far, 477 special IBOs have been carried out, with 1,399 people apprehended.
"We have increased the scope with the leads we received… We will continue going wherever we need to without any hesitation," he said.
'War against terrorism has cost us $107bn'
The entire nation has borne the cost of the war against terrorism, which tallied up to $106.9 billion, Bajwa said.
During Operation Zarb-i-Azb, 536 soldiers were killed and 2,272 were injured, Bajwa said, whereas 3,500 terrorists were killed.
About 66 per cent of locals have returned to areas badly affected by terrorism. "But it is not enough that we take them back [to their homes]. We have to help them prosper by means of reconstruction efforts, ensure that the areas are better off [than before], create opportunities for livelihood and revive the local economy so that this kind of terrorism doesn't recur."
Infrastructural development projects in the region include a 705km road inside North and South Waziristan, a 75km road from Peshawar to Torkham, solar-powered water schemes and the Mirali Tehsil headquarters hospital, the DG ISPR said.
In addition to the above, market complexes, mosques, schools and colleges have also been built in these areas, Bajwa said.
'Anti-Pakistan slogans will not be tolerated'
Responding to a question about Muttahida Qaumi Movement chief Altaf Hussain's anti-Pakistan statements, Bajwa termed Hussain a foreigner residing 5,000km away from Pakistan.
"It is unacceptable for every Pakistani if Altaf Hussain raises anti-Pakistan slogans. The government is already taking action on this issue.
"There has been lots of action on the ground against his incitement to violence. People have been caught and action taken… Everything is before you," Bajwa said.