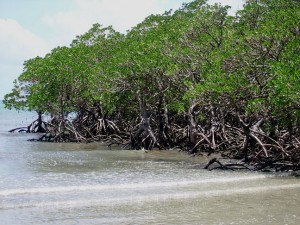 KARACHI — It was a brutal kidnap that turned him into an eco-warrior, and 27 years later Pakistan's "Father of the Mangroves" still lets nothing get in the way of fighting against timber "mafia" and deforestation.
"This is my life. I am very happy with it. The cause is worth living such a life," Tahir Qureshi told AFP, walking around the sanctuary that he set up in his spare time when he still worked full-time with the forestry commission.
He was captured by a kidnap-for-ransom gang in 1984 while working in the southern district of Dadu, now devastated by floods for two consecutive years.
"They kept me for a couple of days in captivity. But when they knew I was a forest officer they released me without further argument. That inspired me to dedicate my whole life for the rehabilitation of our ecosystem," he said.
"The robbers released me as they respect those who respect forests. Trees provide them best hideouts.
"Besides, they are among many people who consider chopping trees as a sin because trees provide us livelihood and help better the environment."
For years, it was a lonely if mighty cause, for apart from Afghanistan, in the grip of a 10-year war between Taliban insurgents and American troops, no other country in Asia suffers from a faster rate of deforestation than Pakistan.
In 2010, it was declared a forest-deficient country because just 2.2 percent or about 1.7 million hectares (4.2 million acres) of its land mass is forested.
According to the UN Food and Agriculture Organisation (FAO) Pakistan lost an average of 42,000 hectares of forest a year between 1990 and 2010.
At the current rate, Pakistan could lose half its remaining forest cover over the next decade or so, says the FAO. The trend has been exacerbated by recent floods, the worst in the country's history in 2010 and a repeated bout this monsoon season.
Qureshi has helped rehabilitate 30,000 hectares of mangrove along the southern coast on the Arabian Sea, including in Baluchistan, one of Pakistan's most violent and inhospitable areas, home to Taliban militants and a separatist uprising.
Today he is a senior advisor on coastal ecosystems with the International Union for the Conservation of Nature (IUCN).
He starts almost every day with a visit to the mangroves, which he calls his kids, on Karachi's Sandspit Beach. Wearing a khaki shirt and trousers, he wades into the swamp up to his waist to see how they're getting on.
"We are historically a forestry-deficient country, but with the course of time the ratio has reduced alarmingly," said the 65-year-old Qureshi.
So who is to blame? There are the timber "mafia" who hack away at mangroves and trees, trucking wood off to market by donkey and vehicle to sell as fuel, while the military and government officials are also accused of involvement.
"The current rate of deforestation is very alarming. We could lose our timber completely in two to three decades if not effectively checked," an environment ministry official told AFP on condition of anonymity.
Hussain Bux Bhagat, a conservationist associated with the Sindh provincial wildlife department, says wildlife in the riverine forest, including birds, reptiles and mammals, also suffered severely because of deforestation.
"Particularly high numbers of grey partridge, which nest on trees and don't leave its habitat have died because of continuing deforestation and last year's floods," Bhagat told AFP.
In 1947, when Pakistan was created from the ashes of British colonialism, riverine forests lined the banks of the Indus River.
They were the first line of defence against floods that have deluged the plains annually for thousands of years, as well as against shoreline erosion. Instead, the deforested areas are prone to flooding and landslides.
But riverine and mangrove forest represent only 20 percent of the forest cover in Pakistan — the rest is concentrated in the mountains of the northern provinces of Khyber Pakhtunkhwa and Gilgit and Baltistan and Kashmir.
There, officials, aid workers and residents accuse the authorities and the Taliban of being hand in glove with mafias cutting down trees.
The Swat valley was once the most popular tourist destination of the country before a Taliban insurgency began in 2007. After a major operation, the army declared the area back under control in July 2009.
But conservationists say tens of thousands of pine trees have been cut down, both during the Taliban years and under the military.
A former Forest Development Corporation (FDC) official, who spoke to AFP on condition of anonymity, said timber felling was one of the main causes of the devastation witnessed in Swat during the floods of 2010.
"Three kinds of actors participated in that: the FDC working for timber mafia, local people and the Taliban, who cut a lot to buy weapons," he said.
"There are two kinds of timber mafias: the big ones, with a licence, and the local ones, people with no licence who bribe guards.
Numerous local residents said army trucks are seen transporting timber, but army spokesman Colonel Arif Mehmood in Swat told AFP he was "not aware" of the practice.
Others say the rate of deforestation has improved since the army restored control over the valley in July 2009. No department can provide statistics.
The Aryana Institute for Regional Research and Advocacy, a think tank, has also pointed to links between the timber mafia and Islamist militancy.
"Being shrewd investors, the timber mafia is believed to have spent part of its dividends to sponsor militancy. Huge sums are involved in the business, which has expanded to the hills bordering Afghanistan," it said in a 2009 report.
"They invest money and energy in Talibanisation, that is how they protect their illegal businesses at the expense of the state's writ."
Copyright © 2011 AFP. All rights reserved