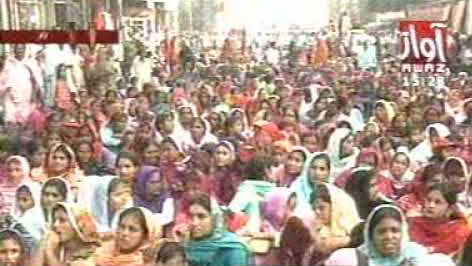 In 1991, a male colleague and I headed to a small town in interior Sindh, where the peasants and low-income traders were spiritual disciples of feudals in Benazir's cabinet. We were escorted by guards through a magnificent fortress with high walls and cemented pathways, which wove into a labyrinth. My male colleague and I were taken into a grand drawing room with fine carpets and engraved tables.
The feudal lord greeted me pleasantly – the "honorary male" from a prominent newspaper. Afterwards, when we finished a frank, at times "off the record" type of conversation, he suggested I visit the women's quarters. Politely, I rose and was escorted by the servant to the women folk. My colleague stayed back; he was after all a "Na Mehram" – a man unrelated by blood to the women.
I walked through a maze that led up to the women's quarters. Wearing loosely draped chador (a type of veil), the women here lived in an age reminiscent of 16th century Moghul India. Never exposed to the outside world, they did not have a lot to talk about. We exchanged pleasantries; I explained I had come from Karachi to do a story. They did not know what it meant to be a journalist, nor did career prospects seem interesting to them.
When these women from feudal families went outdoors, they donned black veils with tiny holes for their eyes.  Even so, it was the feudal lord who determined the liberties the women of his family could avail; they were required to travel in chauffer-driven cars with black drapes, dress modestly at all times and under no circumstances speak to men outside the family.
I spent a night at this haveli (feudal home) living as the women did, with days and nights of solitude. At night, uniformed guards patrolled their ancient fortress. My ears picked up the changing of guards in the dead silence of the night. "Allah Sain Khair" (by God's grace), "Maula Sain Khair" (all is safe).
I left the fortress and continued traveling across interior Sindh. My freedom was in stark contrast to the lives of these women – creatures starved even of simple sensory impulses. The time I spent reporting in Sindh would inform me of the importance of the veil. By a process of osmosis, girls grew up to believe that their path to fulfillment lay in marriage and children.
In 1993, I attended a wedding in a small town of interior Sindh. It was a private event but my journalist's eye took mental snapshots. Women arrived in carefully designed, expensive shalwar kameez and dupattas. with matching jewelry and make-up – all designed to show their standing in the feudal hierarchy.  Chaperoned by male relatives and wearing black veils, the women showed their faces only after they were exclusively surrounded by their own sex. Outside, volunteers stood guard to stop any peeping toms.
The carefully made-up women exposed adaptations of risqué dresses worn by foreign models that one saw on CNN and the Indian ZEE television channels. Captivated by the glamorous images of women, their female viewers copied the fashions in the privacy of their homes and exposed them to other women.
Apparently, the spread of cable television in the remote areas of rural Sindh had created all sorts of unfulfilled desires among the cloistered women. On one occasion, I sat with the young wife of a feudal lord as she watched cable television in a remote town of Sindh. Turning away momentarily from watching a Western film, she sighed wistfully:
"It's very hard to be locked indoors after living in Karachi." Still, sensitive to small town gossip about who was a "good woman," she had never left the house alone.
In the rare case where a young woman from a small town joined a university or medical college, she would likely join the urban women's movement. Still, societal pressures on women to marry and have children were overwhelming. It left the women blissfully unaware that the military government had passed Islamic legislation that gave them an inferior status before the law.
 Brides of the Quran
Journeying through interior Sindh, I stumbled upon large numbers of unmarried, graying women who lived in ancestral homes located in Hyderabad, Thatta, Matiari and Hala. Time hung heavy on their hands. Equipped with little education and no exposure to the outside world, these women had never been exposed to men in their lives.
In 1992, during a journalistic jaunt, I discovered a horrendous custom that kept these women housebound. Under Islamic law, women inherit property when they marry. But in the absence of male relatives, feudals in Sindh refuse to give their daughters inheritance. Instead, big feudals of Sindh and southern Punjab, who derive their power base from the land, prefer to keep their daughters unmarried.
In a more elaborate example of how feudals manipulate women's lives for financial gain, the Syed communities – who trace direct ancestry to Prophet Mohammed – have their daughters married off to the Muslim holy book, the Quran. That literally seals their prospects of marriage.  Under this practice – called "haq bakshna" (waiver of rights) women place their hand on the Quran and waive the Islamic right to marry and inherit property.  Even more ingeniously, they are told their virginity gives them a spiritual status and a duty to dispense talismans to sick children.
The paradoxes were stunning. Feudal politicians took orders from a woman prime minister, Benazir Bhutto even as they kept their own women locked up or "married to the Quran." Some of them were superiors in her party and took orders from the woman prime minister to wield power in their own fiefdoms. The big feudals, who form the backbone of autocratic governments, have kept their control of women well-hidden from public view.