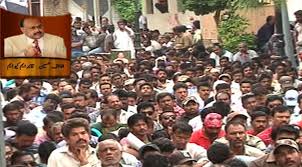 LONDON, July 1: MQM leader Altaf Hussain opened a new front on Sunday by naming the British establishment and openly accusing Britons of hatching a plot to eliminate him and "frame" him in the murder case of Dr Imran Farooq, one of the founders of the MQM.
In an unprecedented broadcast watched by millions of Pakistanis on private TV channels on Sunday, the London-based MQM supremo, who has made Britain his permanent home after fleeing Pakistan in 1992, admitted that the Metropolitan Police had raided his home in North West London.
Dr Imran Farooq, who had been living in exile in London since 1999, was stabbed to death on his way home from work in Green Lane on September 16, 2010, outside his residence. The Met Police believe he was killed because he wanted to start his own independent political career.
The news of the search warrant being executed one of the MQM leader's residential addresses was broken exclusively by Geo TV, stunning Pakistan. The police seemed to have taken direct aim at the MQM leader, by first raiding his home and then arresting Iftikhar Hussain, when he landed at Heathrow after attending Hussain's niece's wedding in Toronto,and kept him for nearly 34 hours at a police station to question about Dr Imran Farooq murder.
In his address, the MQM leader was clearly agitated and complained that the police had taken away belongings from his property and were refusing to communicate. It was in this context that he announced to relinquish charge of the party in the early hours of Sunday.
Hussain retracted his decision of leaving reins of the party in a live speech after hours of emotional appeals by the workers present at the 90 headquarters of MQM and warned that the consequences of his arrest or trial in relation to Dr Farooq's murder may be too serious for Britain to bear.
Hussain spoke as a man who is convinced that he will be implicated in the investigation of Dr Farooq's killing. He spoke as if it was a fait accompli. He spoke candidly and appealed to his workers to stay united if he is eliminated, charged, put on trial, or sent on a path yet unknown to him and others.
He suggested that there was a conspiracy against his leadership of the MQM and wanted a referendum from his workers if they wanted him to stay or go in obscurity. Unanimously, the workers asked Hussain on live TV to stay on or else no other leader will be accepted. It's either you, Bhai, or no one else is worthy of leading us, they assured. Hussain took his resignation back but that was only a sideshow to the big development.
What Hussain said in his speech about Dr Farooq investigation, Britain's role in hideous games and the alleged plot against him by his hosts, actually marks a turning point for the party that set its camp in London more than two decades ago.
The MQM has controlled Karachi from its International Secretariat in Edgware without any trouble at anytime, but those times have changed and the party leadership at the moment has three investigations going on about them, directly or indirectly: the murder investigation of Dr Imran Farooq, a money-laundering investigation and an investigation into Altaf Hussain's 'teen talwar' speech.
In fact, for the first time Altaf Hussain admitted that some kind of a money laundering probe is also going on against the MQM after the raids on MQM Secretariat or the residences of MQM leaders.
The raid on his house and the arrest of Iftikhar Hussain shook the party leadership to the core and has puzzled its think tanks who have for long thought that they are always tolerable to the west because of their general liberal and secular outlook. That assessment is right and the MQM has been treated as such in Britain, but the killing in London and the rise in confrontation in Britain has set the party on a path which it didn't choose.
"I may not be the chief in the eyes of Britain, but I am the chief in the eyes of party workers," said Hussain.It is known that recently George Galloway, MP, instructed lawyers to seek legal action against Altaf Hussain and he has been proactively campaigning in British Parliament regarding Altaf Hussain's activities. Lord Nazir Ahmed and Imran Khan, the Pakistan Tehreek-e-Insaaf (PTI) leader, were also mentioned, by the MQM chief as canvassing the British government.
Imran Khan had also looked at the possibility of bringing legal action against Altaf Hussain in 2007. However, it is unlikely that Galloway, Imran Khan and Lord Nazir will have had much influence on the government as the Metropolitan Police are independent of the government pressure.
It must be noted that the Met Police do have connections with the secret services of Britain, MI-5 and MI-6, and the police force works closely with both the external and internal arms of the secret service.
Hussain said he would not seek legal counsel, barrister or a solicitor if charged with the conspiracy to kill his colleague, Dr Imran Farooq. He gave the clearest indication that the police were headed in the direction and the net was closing in.
He also said that the Met Police had full cooperation from his party but also warned the Met against framing him. In Pakistan, the MQM leadership made their disgust at the Met investigation clear when they protested outside British Consulate in Karachi and warned the Met not to cross the red lines.
Altaf Hussain questioned why the house of a leader who represents millions has been raided in such a blatant manner. It is believed that the MQM is aware that the Met Police are close to taking further action which would be in the form of bringing criminal charges against certain individuals, and his speech may be seen as a pre-emptive attempt to soften the blow to his party faithful.
A foreign and commonwealth office spokesman in London says: We are aware of a planned demonstration outside our Karachi consulate. It's a concern for us, but we will not go into details of what these concerns are. We have taken measures."
Speaking about the comments of Altaf Hussain, the spokesman added: "Metropolitan Police are investigating the murder case of Dr Imran Farooq. The Met Police is completely independent of the government influence. It's an independent organisation. Her Majesty's Government doesn't interfere with the police investigation. Whether to charge, release or raid an address—it's nothing to do with the government. The Met Police deal with such matters."It should be noted that conspiracy to commit murder, contrary to Section (1) 1 of the Criminal Law Act 1977, can attract a custodial sentence and imprisonment for life.