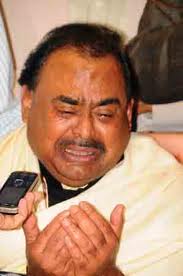 LONDON, July 12 : The BBC's flagship programme 'Newsnight' has said that Muttahida Qaumi Movement (MQM) chief Altaf Hussain is being directly investigated for money laundering worth at least £400,000 pounds as well as for incitement to violence.
The BBC's star interviewer Jeremy Paxman disclosed that that the Metropolitan Police had seized hard cash from two properties in two blocks — £150,000 from the MQM office and £250,000 from the house in Edgware owned by Altaf Hussain. MQM's Deputy Convener Farooq Sattar accepted that the money had been seized by the police but protested that the Met police had failed to follow the procedures and should have provided a receipt of the items taken away.
The BBC said that "the police found hundreds of thousands of pounds of unaccounted for cash and that led to a money laundering investigation". He questioned if Altaf was "using his London base to incite violence in Pakistan" or if his speeches were a breach of the law.
These revelations were part of a documentary the BBC broadcast focusing on the alleged violent politics of MQM and the allegations surrounding the party.
The documentary contained video clips of Altaf Hussain on different occasions – cooking, joking, singing and making potentially violent statements including "we'll prepare your body bags" and "don't blame me if you get killed by our supporters", "it would be in the UK's best interests to stop hatching conspiracies implicating me in this murder case (a reference to Dr Imran Farooq's case)", "we'll tear open your father's abdomen to get our freedom". The BBC said that the police are now "assessing whether those speeches and others like them" breached the law of the UK.
Jeremy Paxman posed the question at the start: "Supposing if it (Britain) was offering sanctuary to an organisation that was using Britain as a base from which to threaten and persecute others?" and then went on to describe the MQM as "one of the most feared political organisations in Pakistan".
Speaking from outside Altaf Hussain's house in Edgware, BBC reporter Owen Bennett Jones pointed out that a police raid had taken place there on June 18 this year in connection with the Imran Farooq murder. He said that Karachi may be far away from Edgware but Hussain "exerts total control over his party".
Legal expert Ali Naseem Bajwa QC, who also defended the accused during the spot fixing trial involving Pakistani players here, said that Hussain's Teen Talwar speech against the Pakistan Tehreek-e-Insaf (PTI) activists in Karachi and other similar speeches believed to be inciting violence may potentially be a "terrorism offence". He said it was clear from Hussain's speeches that there is a of threat use of force, made for a political cause and designed to influence the government and "all seem to be made out".
Bajwa commented that there clearly is a case to answer and "it appears an intention that the listener or the person against whom a threat is being made should take it seriously".
Farooq Sattar, when asked about an alleged threat by the MQM chief issued to the Supreme Court of Pakistan, said: "I categorically deny and refute that Hussain would have ever said what you are saying" and said that these speeches may have "some sort of emotional outburst". Sattar said that the MQM was open to correction and Hussain has always retracted statements that may have hurt anyone.
The documentary featured a renegade MQM activist Naim Ahmed who alleged that the orders to kill people in Karachi came from London and a policeman who said he had fled Karachi because his life was at risk from the MQM. It's not clear at this stage whether the Met police will interview the former MQM activist about his past. Ahmed told BBC: "They (the MQM) are not a peaceful party, they are a militant group, they are like a bunch of mafias …. They are an ideal party for violence."Ahmed said that the youth in Karachi involved in violence told him that "we got our order from London."
The BBC also featured a former Karachi police officer who alleged that the party was involved in violence and threats. The same police while applying for asylum said that "the reason he claims asylum is because of his fear of the MQM who have already killed his wife and brother because of his activities as a police officer against them".
This case is interesting because while granting asylum to him a senior judge Lord Bannatyne accepted on 11 November 2010 that "the MQM has killed over 200 police officers who have stood up against them in Karachi" and that his brother was killed two days after catching people wall chalking "He who is a traitor to the leader deserves to be killed" and that "attempts were made at a high level in the MQM to settle this issue with the appellant but he refused and threats to his safety were made if he did not settle the matter".
Dr Sattar denied all charges and alleged that the left-of-centre BBC has been "influenced" by "pro-Taliban" and radical forces for the preparation of the Newsnight. He said the BBC has used Hussain's statement "out of context". He said Altaf Hussain never said he will put his opponents in body bags. "It's a malicious propaganda and a media trial" against a secular and middle-class party "by the forces of status quo and corrupt political culture". He said there is no proof of the MQM's involvement in acts of terrorism in Karachi.
MQM Coordination Committee leader Khalid Maqbool Siddiqui said on Thursday that the broadcast of Newsnight shows that an organised conspiracy against the party has begun. He said the party had full faith in Altaf Hussain and programmes like Newsnight will help bring workers come closer to their leader.The Metropolitan said it will not comment on the Newsnight revelations about the amounts seized from three MQM properties.