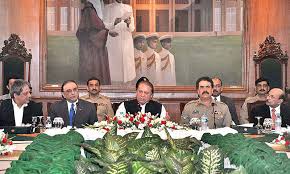 Karachi, May 15 —Prime Minister Mian Muhammad Nawaz Sharif said on Wednesday that the morale of Pakistan Army would never be allowed to let down and the intelligence agencies should expand their intelligence sharing network so that peace and tranquility in the country in general and in Karachi in particular be maintained.
Prime Minister Mian Muhammad Nawaz Sharif, presiding over a high level meeting at Sindh Governor House expressed his resolve with firm determination that peace in Karachi was precious than anything else and the federal government would not hesitate taking any action of any scale for complete restoration of peace and tranquility in Karachi. Karachi was the economic hub of the country and hence this city would not be left alone at the mercy of criminals.
On the occasion, the Chief of Army Staff General Raheel Sharif told the meeting that Pakistan Army was standing beside the civilian government for the cause of restoration of peace in the metropolis.
It was the highest meeting ever held with the Chief of Army Staff General Raheel Sharif, Inter-Services Intelligence chief General Zaheer ul Islam, Karachi Corps Commander Lieutenant General Sajjad Ghani, Federal Interior Minister Chaudhry Nisar Ali Khan, Intelligence Bureau Director General, Pakistan Rangers, Sindh, Director General Maj. Gen. Rizwan Akhtar, former President Asif Ali Zardari, Sindh Governor Dr Ishrat ul Ebad Khan, Sindh Chief Minister Syed Qaim Ali Shah Jilani, Sindh Chief Secretary Sajjad Saleem Hotyana, Acting Inspector General of Police, Sindh Ghulam Haider Jamali, Muttahida Qaumi Movement's Coordination Committee member Haider Abbas Rizvi, Awami National Party Sindh chapter President and Senator Shahi Sayed, Jamaat-e Islami Karachi Ameer Hafiz Naeem ur Rehman and others.
Nawaz Sharif asked Sindh Chief Minister that being the captain of ongoing targeted operation in Karachi; he should not make the operation a test cricket match but treat it like it was a T-20 cricket match. He questioned as why the process of blocking all illegal and unregistered mobile SIMs was not completed as yet and ordered that it should be completed now without fail to ensure elimination of network of criminals and terrorists operating within the country and from abroad.
He enquired about reasons for delay in issuance of red warrant for arresting the criminals and terrorists, who had escaped from Pakistan to neighbouring countries.
The Premier told the meeting that top civil and military leadership would now monitor the ongoing targeted operation against terrorists and criminals in Karachi. He lauded Pakistan Rangers Sindh for their effective operation and major achievements in Lyari regarding busting gangs of militants.
In this regard, the meeting decided to make the blockage of all such illegal and unregistered mobile SIMs as mandatory within the specified duration and the law enforcement agencies should be given complete free hand.
The meeting updated the Prime Minister about measures being initiated for arresting of criminals and terrorists, who had fled to foreign countries through the Interpol.
Pakistan Rangers Director General informed the meeting that the land mafia, drug mafia and banned religious organisations were behind wreaking havoc in the city and they were sabotaging the efforts of the government for restoring peace and tranquility in the metropolis.
The meeting made lengthy deliberations over reservations of MQM on kidnappings of its workers and extra-judicial murders. The meeting reviewed the pace and strategy of the targeted operation in Karachi, details of arrested suspects, recovery of illegal weapons and issuance of red warrants for arresting the hardened criminals and terrorists.
The meeting briefed the Premier about shifting of the anti-terrorist courts to district Malir, installation of scanners on all routes of entry and exit in Karachi, progress on construction of a high security prison, operation against illegal occupation of land and encroachments and establishment of new Police stations in sensitive areas of the city. The meeting also briefed the Prime Minister about effective implementation of Protection of Pakistan Ordinance and transparent appointments in Police Department.
INP adds: Former President and PPP Co-Chairman Asif Ali Zardari Wednesday pledged that Sindh government was ready to extend its support to Interior Minister Chaudhry Nisar Ali regarding maintenance of law and order in Karachi. "We are ready to help the interior minister in every possible way," Zardari said. The former president stressed the need to demonstrate patience and said that there was need to help everyone. More than 2,000 army jawans have been recruited in police force, he said, adding that police needed to be equipped with facilities.