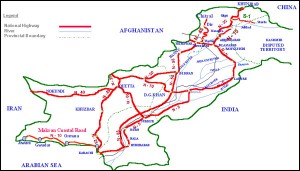 ISLAMABAD, May 13 – Pakistan and United States on Monday entered into an agreement for the construction of N-25 highway connecting Chaman to Kalat through Quetta.
According to agreement signed by US Ambassador and Minister for Planning Ahsan Iqbal, U.S will provide $64 million to the Federal Government for this vital project immediately, and an additional $26 million shall be allocated later on.
"The United States is proud to partner with the Government of Pakistan in rebuilding essential infrastructure. When completed, this highway will become part of the growing legacy of partnership between our two nations, as it will serve the people of Pakistan for generations to come," U.S Ambassador said on the occasion.
The construction of this highway will restore a major trade route between Afghanistan and the Central Asia. It will also lead to be a crucial link between Balochistan and rest of the Pakistan including Karachi.
USAID will fund this construction project of the remaining part of 111 kilometers needed to complete the total 247 kilometer-long highway.
The upgradation and rehabilitation work on N-25 started in 2004, but was halted in 2010 due to security challenges in the area. The sections of the road completed so far were built as per NHA-Specifications and standards under supervision of International Consultants. The N-25 National Highway also called RCD Highway is 813 km long, passing through Karachi, Bela, Khuzdar, Kalat, Quetta and Chaman and continuing into Afghanistan. The NHA will be responsible for all construction work.