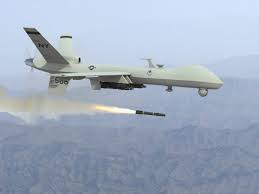 ISLAMABAD, Oct 25: While any mention of the drone issue was conspicuously missing in their joint statement, US President Barack Obama has privately assured Prime Minister Nawaz Sharif that the controversial programme will end soon, according to a senior Pakistani official.
The official, who was accompanying the prime minister on his just-concluded visit to Washington, told The Express Tribune that 'significant progress' has been made on the drone issue.
Speaking on condition of anonymity because of the sensitivity of the matter, he said Washington was considering ending the drone campaign once the "few remaining targets" had been eliminated from Pakistan's tribal belt. According to the official, President Obama told Prime Minister Nawaz that the CIA had already eliminated most of the high-value targets (HVTs) from the region.
Although the American president did not give a timeline for halting the drone campaign, Islamabad expects the unilateral strikes will end in a matter of months, he said.
Another source, meanwhile, pointed out that, unlike previous assessments, the Obama administration informed the new government that the drone programme would not continue beyond 2014.
Nawaz Sharif, who was on a first bilateral trip to US since his party swept to power following the May 11 elections, raised the issue of drone strikes in his meeting with Obama. But the US president remained silent on the matter at the joint news conference at the Oval Office in the White House.
Behind closed doors, however, Obama assured Premier Nawaz that drone strikes would only be used as a last option, claimed the senior official. He said the US president also said that he had directed the CIA to ensure greater transparency in conducting the strikes and avoiding collateral damage while eliminating the remaining HVTs.
The Express Tribune has also learnt that the US may temporarily suspend drone strikes in the tribal areas in an effort to allow the government to conduct peace talks with the Taliban.
Prime Minister Nawaz himself hinted on Thursday that the drone issue would "settle down somehow."
"Hopefully, the drone issue will be resolved according to the wishes of the Pakistani people soon… There was definitely some progress on the matter [during the meetings] and I think this issue will now settle down somehow," he said while talking to reporters during a brief stopover in London on his return to Pakistan.
Earlier, Prime Minister's Adviser on National Security and Foreign Affairs Sartaj Aziz had also hinted at a possible end to drone attacks.
In an interview with Al Jazeera, Aziz claimed that the US administration had given assurances to consider Islamabad's request on drone attacks behind the scenes. He did not give further details, however.
The US considers the drone programme as crucial to eradicate high value targets associated with al Qaeda and the Taliban from the tribal areas.
Pakistan has publicly condemned such strikes and in recent years has been more vocal against the CIA-led campaign.
Published in The Express Tribune, October 25th, 2013.