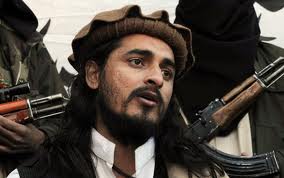 LONDON, Nov 1 — An American drone strike killed the leader of the Pakistani Taliban, Hakimullah Mehsud, on Friday, according to Pakistani intelligence officials and militant commanders in the tribal belt.
If confirmed, his death would be a major achievement for the covert C.I.A. program at a time when drones have come under renewed scrutiny over civilian casualties in both Pakistan and the United States.
While prior reports of Mr. Mehsud's death have proved false, and the Pakistani Taliban offered no comment, there was a proliferation of accounts of his death on Friday from multiple sources, including the militants, within hours of the missile attack. Mr. Mehsud, a showy and ruthless militant leader whose group has been responsible for the death of thousands of civilians across Pakistan as well as many soldiers, had a $5 million United States government bounty on his head.
The strike occurred in Danday Darpakhel, a well-known Pakistani Taliban stronghold in the North Waziristan tribal agency, near the Afghan border.
Pakistani intelligence officials said that American drones fired at least four missiles toward a compound that had been constructed for Mr. Mehsud about a year ago, and which he has used intermittently since then.
A government official in Peshawar, citing intelligence reports, said five militant commanders had been killed in the attack, including Mr. Mehsud, his uncle and a bodyguard, and two wounded.
The strike killed Mr. Mehsud's deputy, Abdullah Behar, who had just taken over from Latif Mahsud, a militant commander who was detained by American forces in Afghanistan last month, the official said.
"The chances of Hakimullah Mehsud being killed are pretty high," said another Pakistani official, requesting he not be named. "Our reports said that he was there at the time of the drone strike."
A local Taliban commander, speaking by phone and insisting on anonymity, said Mr. Mehsud had been killed. "Hakimullah has been martyred in the attack," he said.
Haji Ghulam Jan Dawar, a resident of North Waziristan whose nephew fights with the Taliban, said he had learned that Mr. Mehsud was dead. "My nephew told me that Emir Sahib is no more," said Mr. Dawar, employing an honorific to refer to Mr. Mehsud.
Mr. Mehsud's death could also throw into disarray — or possibly render redundant — controversial plans by the Pakistani government to engage in peace talks with the Pakistani Taliban.
The Pakistani government did not immediately confirm the killing of Mr. Mehsud, and Chaudhry Nisar Ali Khan, the interior minister, was initially quoted as saying that the drone strike was aimed at sabotaging the peace talks.
A three-member delegation representing the Pakistani government is due to meet militant representatives in Peshawar and the town of Bannu, near the tribal belt, on Saturday.
Mr. Mehsud's death would also represent payback, of sorts, for the C.I.A.: Mr. Mehsud orchestrated a major suicide bombing against a C.I.A. base in southern Afghanistan in 2009 that killed seven Americans and two other people.
The drone strike comes just over a week after Pakistan's prime minister, Nawaz Sharif, met with President Obama in the White House. Mr. Sharif has repeatedly stated his opposition to drone attacks, which are a hot-button political issue in Pakistan.
"There is an across-the-board consensus in Pakistan that these drone strikes must end," the Foreign Ministry statement said.
But steady media leaks and other reports in recent months have suggested that some senior Pakistani civilian and military leaders have quietly cooperated with the drone strikes, and even approved of some.
Still, after the strike on Friday, Pakistan's Foreign Ministry issued a pro-forma condemnation, employing the usual language about the American action's being a violation of Pakistan's "sovereignty and territorial integrity."
Reports of Mr. Mehsud's death met an uneasy welcome across Pakistan.
Some feared a violent backlash led by militants carrying out suicide attacks across the country. Right-wing politicians described it as a setback for peace efforts.
Shireen Mazari, a leader of the Tehreek-e-Insaf party, blamed the United States for creating instability in Pakistan.
"Terrorism will increase and attacks will increase," Ms. Mazari told the Express News television channel. "We should shoot the drones down."
But others welcomed news of Mr. Meshud's demise. Athar Abbas, a former army general and spokesman, said in a television interview that the United States may have "helped Pakistan, by eliminating a person who was damaging the state of Pakistan."
Hours before the strike, three American congressmen and the American ambassador to Pakistan, Richard Olson, met with Sartaj Aziz, the prime minister's adviser on national security and foreign affairs, in Islamabad.
In a statement, the Foreign Ministry said that Mr. Aziz had "expressed satisfaction at the upward trajectory in bilateral relations between Pakistan and the United States."
Declan Walsh reported from London, Ishanullah Tipu Mehsud from Islamabad, and Ismail Khan from Peshawar, Pakistan. Salman Masood contributed reporting from Islamabad.