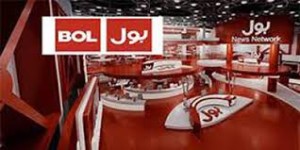 KARACHI, May 24: As the scandal surrounding Axact's fake degree empire roiled the country, several senior journalists announced on Saturday that they were leaving the Bol Network, a sister concern of the controversial IT company.
Those who quit Bol included the network's two top executives, Kamran Khan and Azhar Abbas.
"Charges against Axact are far from having been proved in court but my conscience is not letting me continue," tweeted Bol's president and editor-in-chief Kamran Khan, who had earlier called on the Supreme Court to form an independent panel of experts to look into the NYT claims about Axact.
"I have decided to disassociate from Bol immediately," he continued in his post on the microblogging website.
Bol News President and Chief Executive Officer Azhar Abbas has also stepped down. "I have resigned after speaking to my editors and staff. I put together a great team of journalists and I wish them [the] best," he tweeted.
Kamran and Abbas were followed by Iftikhar Ahmed, who in a post on Twitter said he "cannot work for an organisation whose basic workings conflict with my professional commitment."
"I have decided to disassociate myself from Bol," he added.
Bol Executive Vice-President and senior anchorperson Asma Shirazi, who had earlier said she would quit the network immediately if any allegation against Axact was proved, also announced her resignation on Twitter.
"I have resigned from Bol News. Truth must prevail," she posted on the microblogging website.
Other senior anchorpersons to leave Bol on Saturday included Wajahat S Khan and Nusrat Javeed.
"It's done. I will be back, but not on Bol," announced Wajahat, who joined Bol News as executive vice-president and senior anchorperson.
"Although I strongly feel that my colleagues in the media rushed to pass a final judgment regarding our relations with Bol, I am quitting," tweeted Nusrat Javeed.
Other anchorpersons said they would remain with Bol News for now and take a final decision later.
"I have not resigned yet from Bol… I will let my viewers know about my decision soon," said Jasmeen Manzoor.
Published in The Express Tribune, May 24th, 2015.