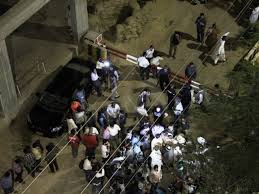 ISLAMABAD, Dec 2 — Unidentified gunmen opened fire on the office of a leading news media group in Karachi on Monday evening, wounding a security guard and underscoring the threats journalists face in the country.
The motive of the attack, on the offices of the Express Media Group, remained unclear, and there was no immediate claim of responsibility.
Pakistan is one of the world's most dangerous countries for journalists, who face frequent harassment and intimidation here from a variety of groups, including the Pakistani Taliban and other militants, state security forces and intelligence agencies, and local political and criminal groups. So far this year, at least five journalists have been killed. And 44 more have been killed over the past decade, according to the New York-based Committee to Protect Journalists.
The Express Media Group publishes an Urdu-language newspaper and an English daily, The Express Tribune, which is a partner publication of The International New York Times. The group also owns the Urdu television network Express News.
The number of attackers was not immediately clear, said Bilal Lakhani, the publisher of The Express Tribune. The gunmen opened fire on the building at 7:10 p.m. from an adjacent bridge. However, they did not try to approach the main entrance, located in a narrow, barricaded alley off the main road. Security guards on the rooftop of the building fired back, and the attackers fled, Mr. Lakhani said.
Though the Pakistani Taliban did not claim responsibility for the attack, some officials believe that recent threats suggested that they were probably behind the shooting.
Most recently, the Taliban criticized the news media for praising the Indian cricket star Sachin Tendulkar, who retired in November.
One employee of Express Media Group speculated that Monday's attack might have been a reaction to a recent news article in The Express Tribune that said Taliban militants had been hiding in the Defense Housing Authority Phase II neighborhood, an upscale district of Karachi.
The newspaper's office in the northwestern city of Peshawar had received threats after the killing of the Pakistani Taliban leader Hakimullah Mehsud by an American drone strike on Nov. 1, the employee said.
The attack on Monday was the second time the office had come under fire in recent months. In August, four unidentified gunmen opened fire at the office, wounding a security guard and a woman. Extortion — which is rampant in the city considered to be the country's commercial and industrial hub — was thought to be the motive of that attack, according to police officials.
Sultan Ali Lakhani, the chief executive of Express Media Group, said that the company was taking the attacks very seriously, and that he planned to increase security at the main office.
Still, he said staff morale was "great" despite the two attacks in four months. "They are journalists," he said. "They are used to such stuff."